Puffball Mushroom Health Benefits | Giant Puffball Nutritional Value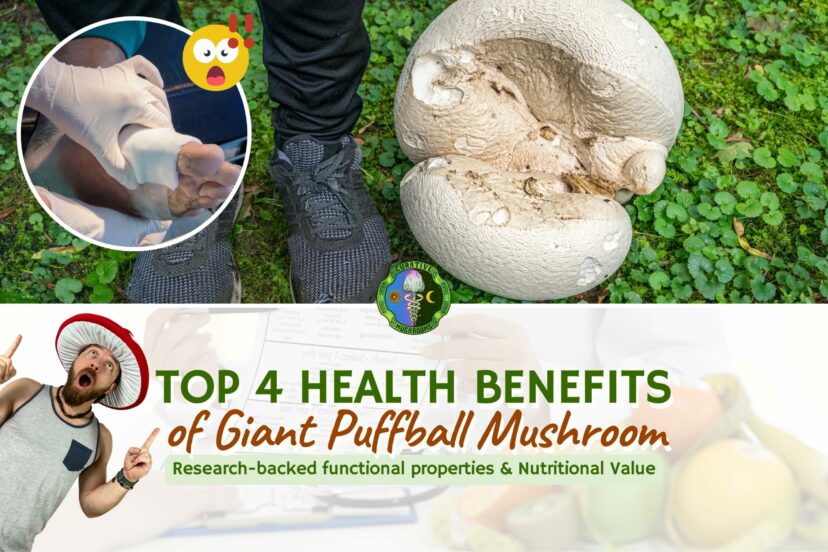 Puffball Mushroom Health Benefits | Giant Puffball Nutritional Value. If you're a mushroom enthusiast, you might have heard of the Giant Puffball mushroom. It is a unique gigantic mushroom that can grow up to several feet wide.
Not only is this mushroom a fascinating sight to behold, but it also boasts an impressive range of potential health benefits.
Exploring Calvatia gigantea Giant Puffball Mushroom Health Benefits and Nutritional Value
In this article, we will delve into the nutritional value of the Giant Puffball mushroom. And explore some of the potential health benefits it offers. Including its role in reducing inflammation and potentially even fighting cancer.
Whether you're a seasoned mushroom enthusiast or simply curious about the potential health benefits of this unique fungus, read on to learn more about the Giant Puffball mushroom and what it has to offer.

Are Giant Puffballs healthy?
Giant puffballs (Calvatia gigantea) can be a healthy addition to your diet. They are low in calories and fat and are a good source of protein, fiber, potassium, and other essential nutrients.
Additionally, like many other edible mushrooms, they contain antioxidants that can help protect against cellular damage and inflammation in the body.
However, it's important to correctly identify and cook giant puffballs before eating them. Toxic look-alike mushrooms can be dangerous or even deadly. Additionally, raw or undercooked mushrooms can be difficult to digest and potentially harmful.

What is the nutritional value of a Giant Puffball?
Here are the nutritional values for 100g of fresh raw Giant Puffball mushroom according to a 2016 study (1):
Polyunsaturated Fatty Acids

: 67.93%

Proteins

: 34.37%

Carbohydrates

: 51.97%

Phenolic Compound

(gentisic acid): 23.26 µg/g

Sugar

(trehalose): 9.78 g/100g

Aroma Compound

(hexanal): 34.71%
A recent analysis reveals that these mushrooms contain a variety of beneficial compounds. Including phenolic compounds, sugars, and polyunsaturated fatty acids (PUFAs). PUFAs are essential fats that the body needs for healthy functioning, including improving heart health (2).
In fact, C. gigantea contains a whopping 67.93% PUFAs, making it a rich source of these beneficial fats. Additionally, the mushrooms are also high in proteins (34.37%) and carbohydrates (51.97%).
In comparison to the daily nutrient requirements, the high protein and carbohydrate content of C. gigantea can help contribute to a healthy diet. The high PUFA content can also be particularly beneficial for individuals who do not consume enough of these essential fats in their regular diet.
The study suggests that Calvatia gigantea could be a promising source of nutrition. Moreover, it has the potential use in the production of health foods and supplements.

Top 5 Giant Puffball Mushroom Health Benefits or Functional Properties
1.

Wound dressing and treatment for inflammation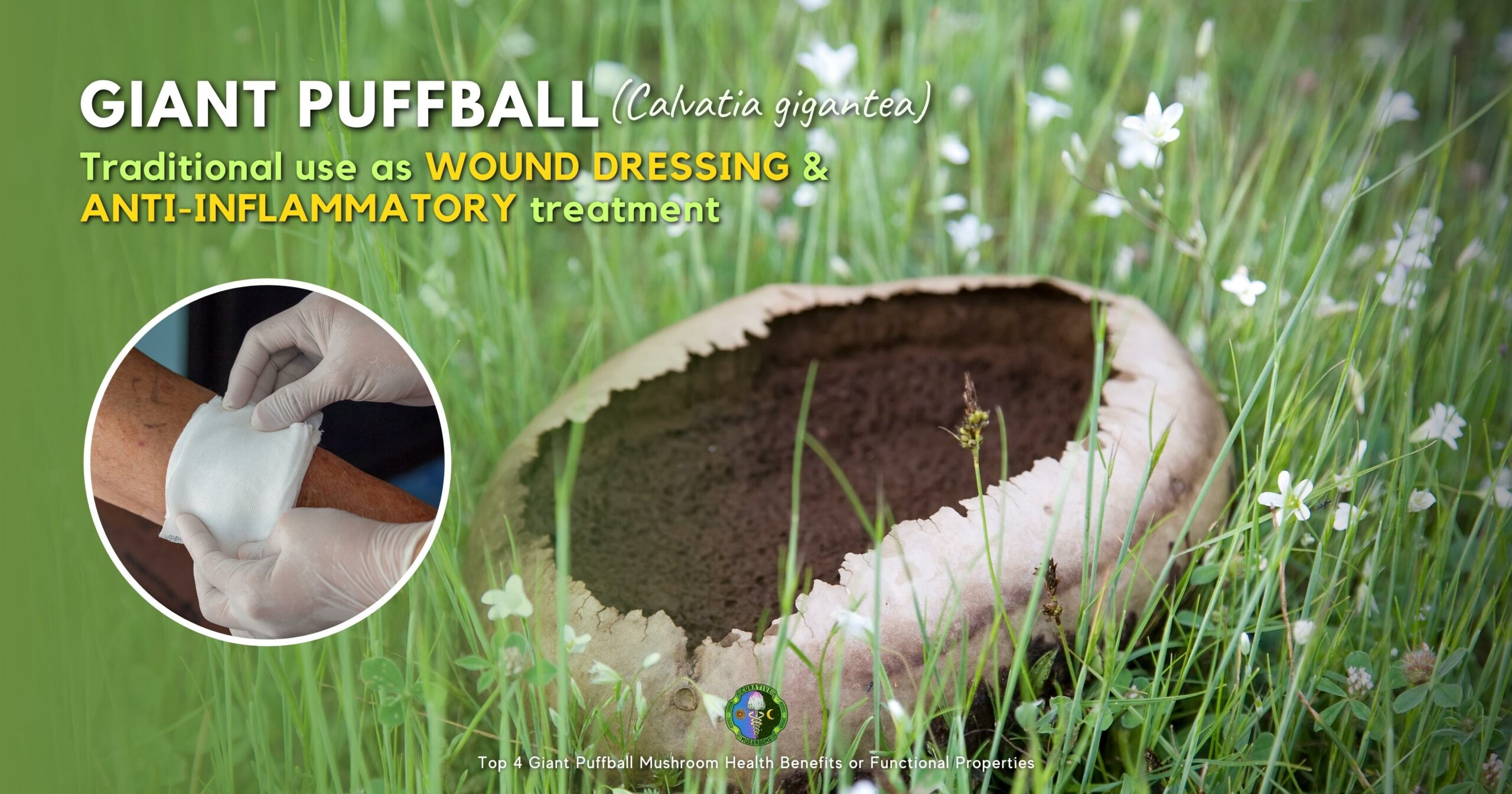 Throughout history, Giant Puffball has been utilized by various cultures. Including Native American Indians, Nigerian and German folks, for its hemostatic properties. Specifically, as a wound dressing, applied to the umbilicus of newborn infants, and to treat inflammation (3).
In Serbia, Giant Puffball spores are believed to stop bleeding and are used to sprinkle on wounds. The potential health benefits of Giant Puffballs have been studied in recent years. And it continues to be an area of interest for researchers.
However, is important to note that while the traditional use of Giant Puffballs suggests its effectiveness in stopping bleeding wounds, more recent studies are necessary to confirm its hemostatic properties and its potential as a safe wound dressing.
2.

Fights against lung cancer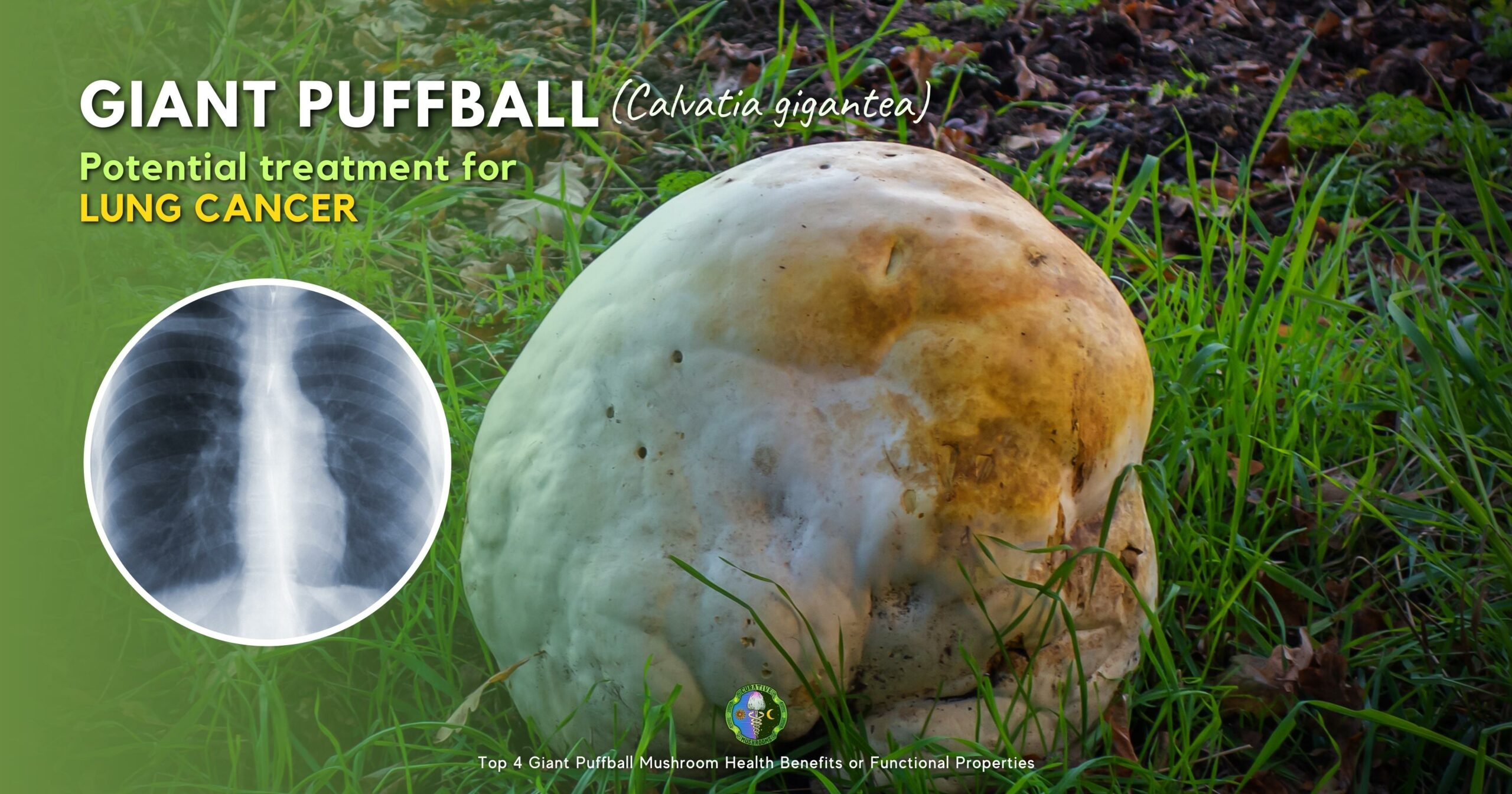 Next, Giant Puffball has been studied for its potential ability to fight against lung cancer. A recent study investigated the mechanism behind this effect. Specifically, the study evaluated changes in the expression of several genes and proteins involved in cell cycle regulation and apoptosis, in response to treatment with the extract.
Results show that the extract can induce cell cycle arrest and apoptosis (programmed cell death) in A549 lung cancer cells. This suggests that Giant Puffball extract may be an effective agent for the treatment of lung cancer. Either as a single agent or in combination with other drugs (4).
While there is promising evidence for the use of Giant Puffball extract as a treatment for lung cancer agents, further studies are necessary to determine the optimal safe and effective dosage.
3.

Helps the body grow and repair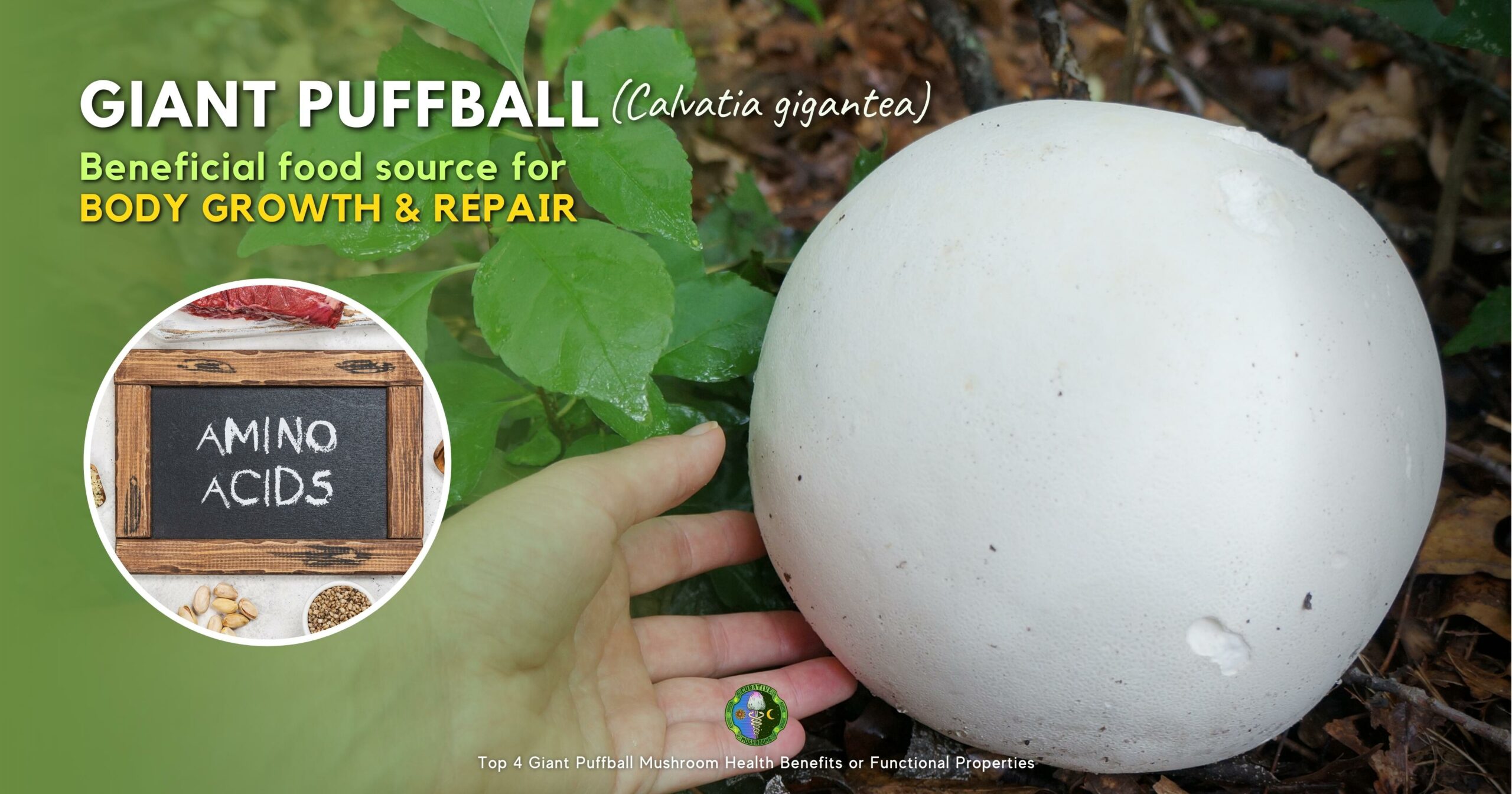 Giant Puffball contains free amino acids that are essential for the human body to function properly. Amino acids are also important for energy production, nutrient absorption, and tissue repair.
A research study has confirmed that Giant Puffball contains essential and non-essential free amino acids (5). The study's detection and quantification of free amino acids in the Giant Puffball mushroom demonstrate that it is a nutritious and beneficial food source that can help improve the nutritive condition of diets.
4.

Has potent anti-diabetic property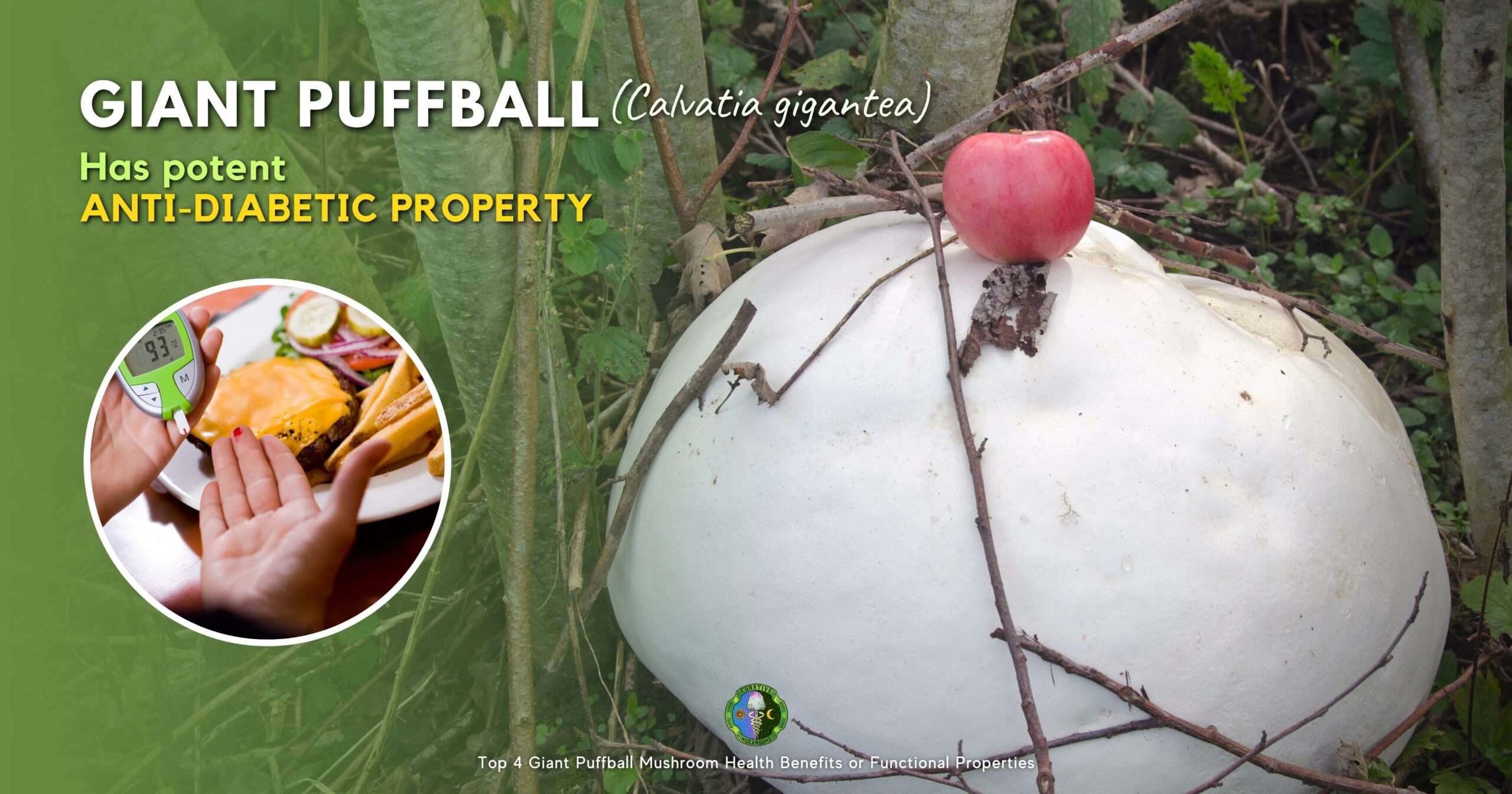 Lastly, Giant Puffball has been found to have hypoglycemic properties. This means that it can lower blood sugar levels, which is a key indicator in the management of diabetes.
In an in vivo test study, the extract of a Giant Puffball was evaluated for its hypoglycemic activity in diabetic rats. The results show that 400 mg/kg dose had potent activity by reducing blood glucose levels by 29.3%. Which was significantly higher compared to a standard anti-diabetic drug which only reduced blood glucose levels by 15% (6).
The study established the identity of C. gigantea and confirmed its antidiabetic activity. However, further research is needed to explore its safety and efficacy in humans.
Final Thoughts on Giant Puffball Mushroom as a Health Food
In summary, the Giant Puffball mushroom is a unique and fascinating fungus with potential health benefits. It is low in calories and fat and a good source of protein, fiber, potassium, and essential nutrients.
Further, studies show that it contains antioxidants, phenolic compounds, and polyunsaturated fatty acids. Such can help protect against cellular damage and inflammation.
Additionally, the mushroom has been traditionally used for its hemostatic properties and may have the potential as a wound dressing. It has also shown promising results in fighting against lung cancer, although further studies are necessary.
As with any mushroom, it is important to correctly identify and cook it before consumption. As toxic look-alike mushrooms can be dangerous or even deadly.*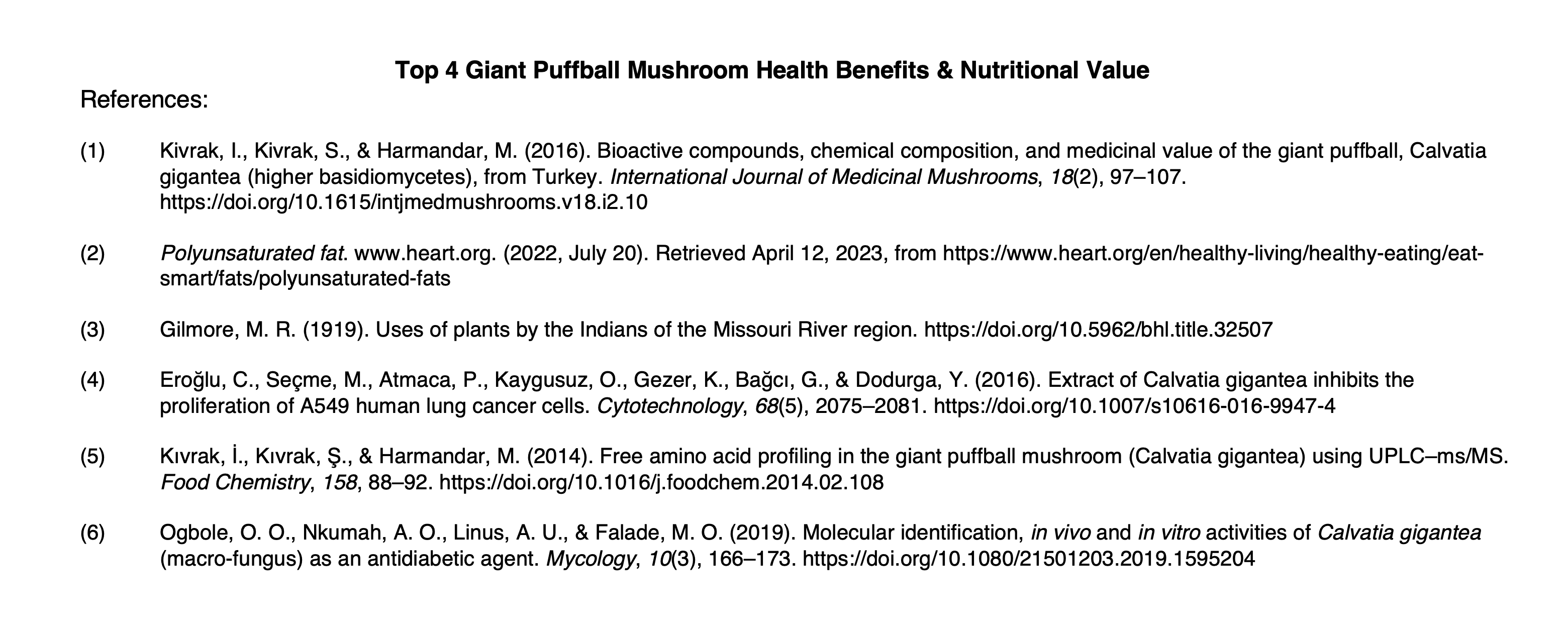 ________________________________
FDA DISCLAIMER
Curative Mushrooms has to post the standard FDA Disclaimer…The statements made regarding medicinal mushrooms have not been evaluated by the Food and Drug Administration. The efficacy of these products has not been confirmed by FDA-approved research. Curative Mushrooms is not making claims intended to diagnose, treat, cure or prevent any disease. All information presented here is not meant as a substitute for or alternative to information from healthcare practitioners. Please consult your healthcare professional about potential interactions or other possible complications before consuming the medicinal mushrooms. The Federal Food, Drug and Cosmetic Act requires this notice.
MEDICAL DISCLAIMER
This content is for informational and educational purposes only. It is not intended to provide medical advice or to take the place of such advice or treatment from a personal physician. All readers/viewers of this content are advised to consult their doctors or qualified health professionals regarding specific health questions. Neither Curative Mushrooms nor the publisher of this content takes responsibility for possible health consequences of any person or persons reading or following the information in this educational content. All viewers of this content, especially those taking prescription or over-the-counter medications, should consult their physicians before beginning any nutrition, supplement or lifestyle program.
_________________________________