How to Cook Giant Puffball Mushroom Recipes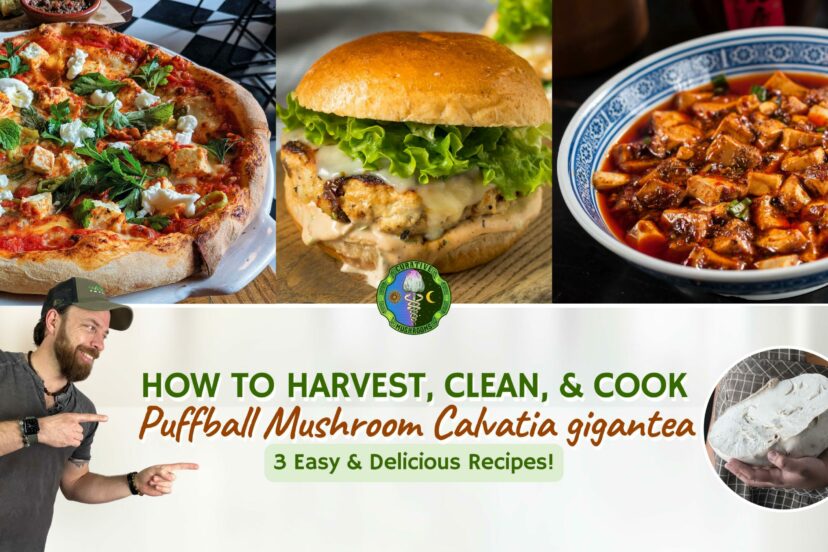 How to Cook Giant Puffball Mushroom Recipes. Have you stumbled upon a giant puffball in the woods, garden, grocery store, or local market? If so, you are in for a treat!
Giant puffball mushrooms are a type of edible fungi that can be found in many parts of the world. Moreover, they are a highly sought-after, exciting, edible mushroom that you should not pass up! Additionally, aside from being versatile and delicious, giant puffballs are packed with essential nutrients and health benefits. Giant Puffball Nutrition Facts and Medicinal Use blog coming up soon…
Harvest, Clean, and Cook Giant Puffball (Calvatia gigantea) Mushrooms
But before we dive into the culinary magic, let's go over the proper techniques for harvesting and cleaning wild or store-bought giant puffballs.
1. How to harvest and clean giant puffballs?
Here are the steps for harvesting and cleaning giant puffballs:
1.1. Harvesting:
Identify the mushroom: Giant puffballs are round, white mushrooms that don't have stems, caps, and gills. As they grow, they can reach impressive sizes of several feet wide. However, it is crucial to distinguish them from other mushroom species, as some toxic mushrooms can have a similar appearance.
Harvest at the right time: Puffballs are best harvested when they are still young and white, before they begin to turn yellow or brown. This usually happens within a week of the mushroom's appearance. To harvest, simply hold the puffball with two hands and pull it while twisting.

1.2. Cleaning:
Brush off exterior dirt: Using a soft brush or towel, carefully brush off any debris, soil, or dirt from the surface of the puffball.
Examine the interior: Once you've chosen a giant puffball, the first step is to inspect it thoroughly. Check the inside of the puffball for signs of insect damage or discoloration. If it appears healthy and free of any abnormalities, then it is ready to be cleaned.
Peel the skin: Peel off the outer leather-like skin of the puffball. It should come off easily.
Cut to desired shape: Giant puffballs can be sliced into thick slices or small pieces. They're used in a variety of recipes, such as sautés, soups, and stir-fries.
Final cleaning: To properly clean the puffball pieces, there are a few steps you need to follow. Firstly, submerge the slices or pieces in a bowl of cold water for several minutes. After that, drain the water and rinse the puffball pieces to remove any remaining debris or dirt. Finally, gently pat the pieces dry with a clean towel.
2. Top 3 Easy and Delicious Giant Puffball Recipes
Starting with the recommendation to cook mushrooms before eating, we suggest our favorite curated and simplified recipes perfect for seasoned and beginner cooks. With these easy and delicious recipes, get ready to impress your taste buds!
Giant Puffball Mushroom Pizza
This unique take on pizza is sure to be a hit with everyone. The mushrooms are used in place of traditional pizza dough, so it's gluten-free as well! Top with your favorite pizza toppings and enjoy.
INGREDIENTS
Crust:
fresh giant puffball, 1 cm slices

olive oil
Tomato Sauce:
chopped tomatoes, 1 can or 400 g

olive oil,

1

tbsp
garlic, 1 clove

salt, 0.5 tsp

fresh basil leaves (options: oregano, spinach, arugula, pesto, or rosemary)
Toppings:
shredded mozzarella cheese, 1 bag

toppings of your choice (ham, pepperoni, chicken, truffle, vegetables)
INSTRUCTIONS
Tomato Sauce:
For the pizza sauce, set aside all ingredients in a blender or food processor.
Crust:
Preheat the oven to 250 C / 480 F.

In a large frying pan over high heat, add olive oil. Then, fry one or two slices of giant puffball at a time until golden brown on both sides. Add more olive oil if necessary.
Making the Mini Pizzas:

Firstly, place the fried slices of giant puffball onto a baking sheet lined with parchment paper.
After that, spread a thin layer of tomato sauce on top of each slice.
Then, add shredded mozzarella cheese and your choice of toppings.
Bake the mini pizzas in the oven until the cheese has melted, which should take around 5-10 minutes.
Finally, serve immediately.
Check out exact recipe of Giant Puffball Mini Pizzas by Nordic Forest Foods
Giant Puffball Mushroom Parmesan Burger
These thick slices of meaty puffballs pan-fried in a crisp 'Parmesan cheese' crust are a tasty and non-meat alternative. They offer a satisfyingly chewy texture and a rich umami flavor while completely free from animal products.
INGREDIENTS
puffball mushroom, sliced palm size

flour, 100 g

sea salt, 1 tsp

black pepper, freshly ground

1 egg

finely grated parmesan, 50g

butter, 1 knob

olive oil, for drizzle

crusty sourdough rolls, 4 pcs (options: crunchy french bread, ciabatta rolls, artisan bread, homemade bread, or pretzel rolls)

burger toppings and garnishes to taste (tomato, avocado, or cress)
INSTRUCTIONS
Firstly, mix the salt, pepper, and flour in a bowl wide enough to fit one mushroom slice easily.
Next, beat the egg with a splash of water in a similarly shaped bowl.
Then, add the grated 'Parmesan' to a third bowl.
After that, heat the butter and oil in a frying pan over medium-low heat, until hot, but not smoking.
Working one at a time, dip each slice in seasoned flour, then egg, then Parmesan. Pressing the cheese onto all the sides to help it adhere before adding it to the hot pan.
Fry the slices, keeping the heat medium-low, turning once. When the cheese is crisp and golden and the mushroom is hot and tender all the way through, they are ready. (About 5 minutes per side.)
Finally, transfer to paper towels to drain the excess fat, then serve immediately with crusty sourdough rolls and whatever burger toppings and garnishes take you fancy.
Check out exact recipe of Puffball Mushroom Burgers by Delicious From Scratch
Sautéed

Puffball with Lemon and Garlic
This easy-to-prepare side dish is bursting with savory umami flavor. The soft and tender puffball mushrooms are enhanced with the savory taste of garlic and the bright tanginess of lemon. Surely, this versatile dish pairs perfectly with chicken, fish, or pork.
INGREDIENTS
giant puffball, 450 g diced in 1 inch thick cubes

butter, 3 tbsp

onion, 1 whole

garlic, 4 cloves minced

salt, ½ tsp

pepper, ¼ tsp

lemon, grated zest, and juice

parsley, ¼ cup chopped
INSTRUCTIONS
Firstly, heat the butter in a large skillet or oven.
Once the butter is melted, add the diced onion, garlic, and salt. Sauté for 5 minutes, until the onion is translucent, stirring occasionally.
Next, add the diced puffballs and stir occasionally until they have shrunk in size and are golden brown in spots (5 to 10 minutes).
After that, add the pepper and lemon zest and cook for 1 more minute.
Squeeze the juice of half a lemon over the puffballs and sprinkle with the parsley.
Finally, toss and add more salt to taste, if desired.
Check out exact recipe of Sautéed Puffball with Lemon and Garlic by Kitchen Frau
Summary | How to Cook Giant Puffball Mushroom
In summary, Giant puffball mushrooms are a unique and delicious ingredient that can be found in many parts of the world! With the right techniques for harvesting and cleaning, you can prepare them safely and easily at home.
Additionally, whether you are looking to impress guests or simply trying out new recipes, these top 3 easy and delicious giant puffball recipes are a great place to start. From the Giant Puffball Pizza to the Sautéed Tofu Puffball, there are plenty of ways to enjoy this versatile ingredient.
If you're feeling adventurous, you can also cook giant puffball mushroom with these recipes: grilled puffballs, puffball patties, and fried puffballs for a unique twist on classic dishes!

*𝘐𝘧 𝘺𝘰𝘶 𝘤𝘰𝘮𝘦 𝘢𝘤𝘳𝘰𝘴𝘴 𝘢 𝘮𝘶𝘴𝘩𝘳𝘰𝘰𝘮 𝘵𝘩𝘢𝘵 𝘺𝘰𝘶 𝘴𝘶𝘴𝘱𝘦𝘤𝘵 𝘮𝘢𝘺 𝘣𝘦 𝘢 𝘎𝘪𝘢𝘯𝘵 𝘗𝘶𝘧𝘧𝘣𝘢𝘭𝘭, 𝘪𝘵'𝘴 𝘣𝘦𝘴𝘵 𝘵𝘰 𝘩𝘢𝘷𝘦 𝘪𝘵 𝘪𝘥𝘦𝘯𝘵𝘪𝘧𝘪𝘦𝘥 𝘣𝘺 𝘢𝘯 𝘦𝘹𝘱𝘦𝘳𝘵 𝘣𝘦𝘧𝘰𝘳𝘦 𝘤𝘰𝘯𝘴𝘶𝘮𝘪𝘯𝘨.
________________________________
FDA DISCLAIMER
Curative Mushrooms has to post the standard FDA Disclaimer…The statements made regarding medicinal mushrooms have not been evaluated by the Food and Drug Administration. The efficacy of these products has not been confirmed by FDA-approved research. Curative Mushrooms is not making claims intended to diagnose, treat, cure or prevent any disease. All information presented here is not meant as a substitute for or alternative to information from healthcare practitioners. Please consult your healthcare professional about potential interactions or other possible complications before consuming the medicinal mushrooms. The Federal Food, Drug and Cosmetic Act requires this notice.
MEDICAL DISCLAIMER
This content is for informational and educational purposes only. It is not intended to provide medical advice or to take the place of such advice or treatment from a personal physician. All readers/viewers of this content are advised to consult their doctors or qualified health professionals regarding specific health questions. Neither Curative Mushrooms nor the publisher of this content takes responsibility for possible health consequences of any person or persons reading or following the information in this educational content. All viewers of this content, especially those taking prescription or over-the-counter medications, should consult their physicians before beginning any nutrition, supplement or lifestyle program.
_________________________________