Mushroom Duxelles Recipe: Step-by-Step Guide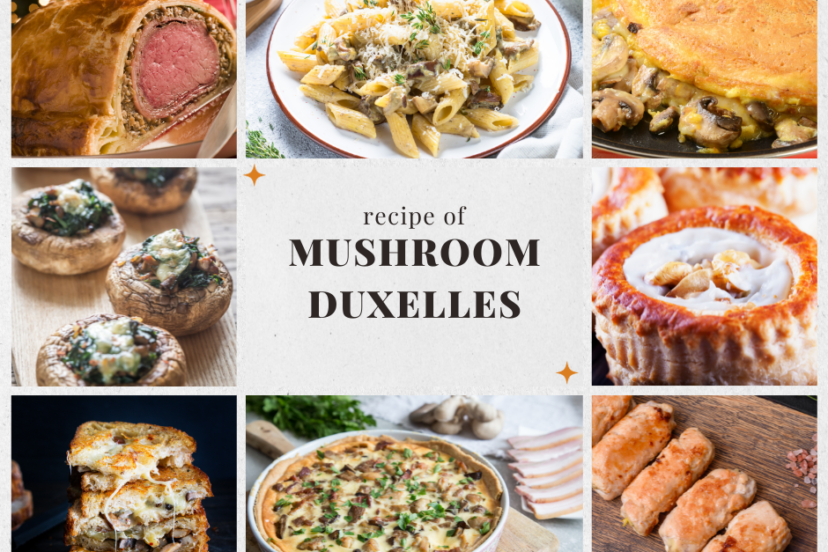 In the realm of culinary masterpieces, the enigmatic and exquisite Mushroom Duxelles hold a special place. This rich and versatile mixture of finely chopped mushrooms, shallots, herbs, and seasonings is a hidden gem in the world of gourmet cuisine. In this article, we will delve into the wonders of Mushroom Duxelles, learn how to make them and explore their culinary versatility.
What is a Mushroom Duxelle?
Before we dive into the recipe for Mushroom Duxelles, let's begin with the fundamentals. What exactly are Mushroom Duxelles? Mushroom Duxelles is a classic French preparation, named after the famous French chef François Louis Bracq, Marquis d'Uxelles. It involves finely mincing mushrooms, typically button mushrooms or cremini mushrooms, and combining them with shallots, herbs, and seasonings. This mixture is then sautéed to create a rich, intensely flavored paste.
Mushroom Duxelles are often used as a filling for various dishes, such as beef Wellington or savory pastries like vol-au-vents. Its umami-rich flavor and luxurious texture make it a valuable addition to any chef's repertoire.
Mushroom Duxelles Recipe
Ingredients:
1 pound (450g) fresh mushrooms (button or cremini work well)
2 shallots, finely chopped
2 cloves of garlic, minced
2 tablespoons butter
2 tablespoons olive oil
2 tablespoons fresh thyme, chopped
Salt and black pepper to taste
Instructions:
Start by cleaning the mushrooms. Use a damp paper towel to wipe away any dirt, and then finely chop them. A food processor can also be used, but ensure not to over-process; you want a finely minced texture, not a puree.
In a large skillet, heat the olive oil and butter over medium-high heat.
Add the finely chopped shallots and minced garlic to the skillet. Sauté for about 2 minutes or until they become translucent and fragrant.
Add the finely chopped mushrooms and fresh thyme to the skillet. Sauté this mixture for approximately 15-20 minutes, or until most of the moisture from the mushrooms has evaporated, and the mixture turns into a paste-like consistency.
Season the Mushroom Duxelles with salt and black pepper to taste.
Allow the duxelles to cool before using it as a filling or topping for various dishes.
Mushroom Duxelles are a versatile ingredient, and you can use it to elevate a wide range of dishes. Here are some popular applications:
1. Beef Wellington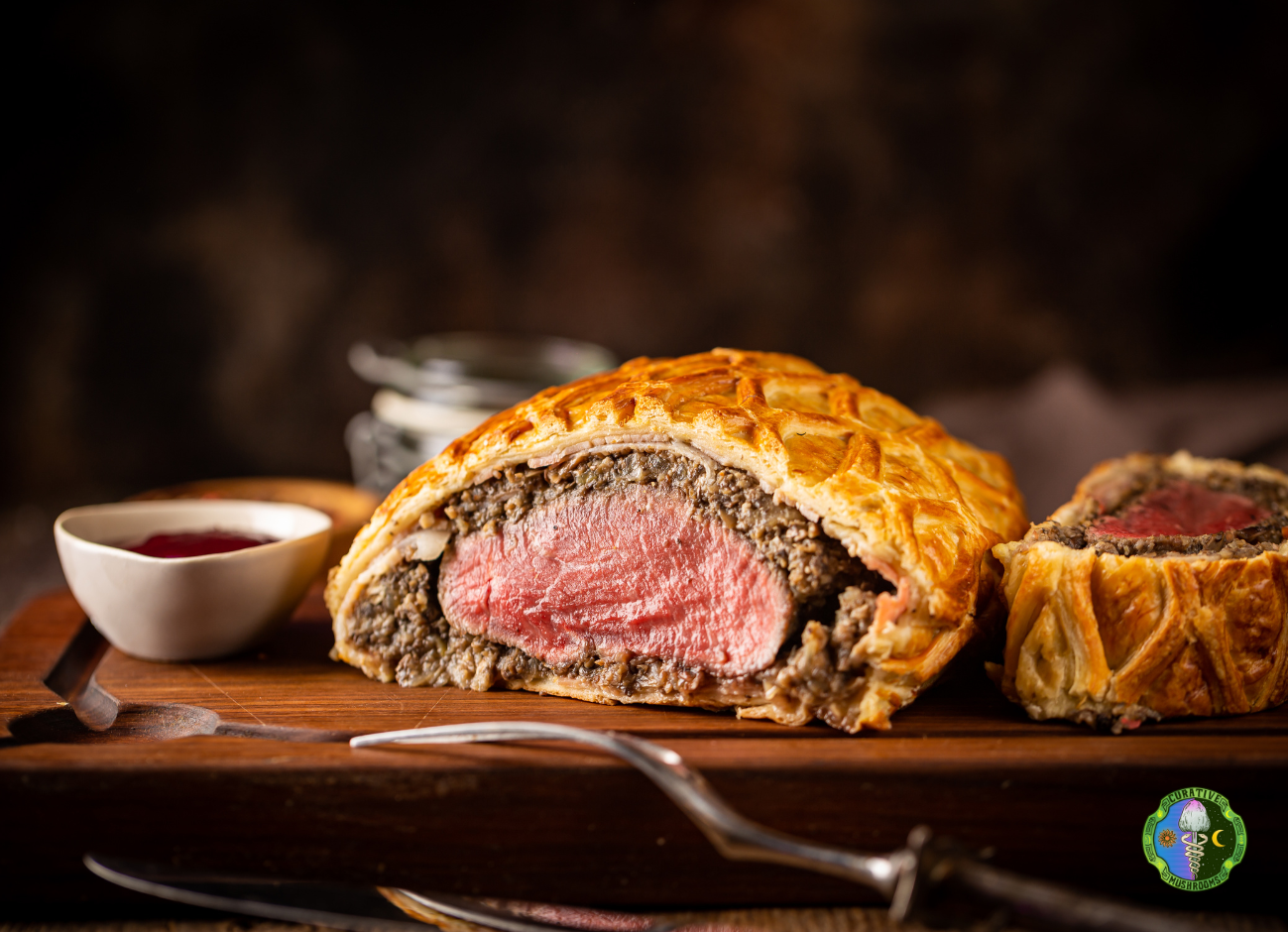 One of the most iconic dishes featuring Mushroom Duxelles is Beef Wellington. A tender beef fillet is coated with a layer of Mushroom Duxelles before being wrapped in puff pastry and baked to perfection. The duxelles not only adds incredible flavor but also helps keep the meat moist during cooking. This show-stopping dish is often served on special occasions and is a true culinary masterpiece.
2. Vol-au-Vents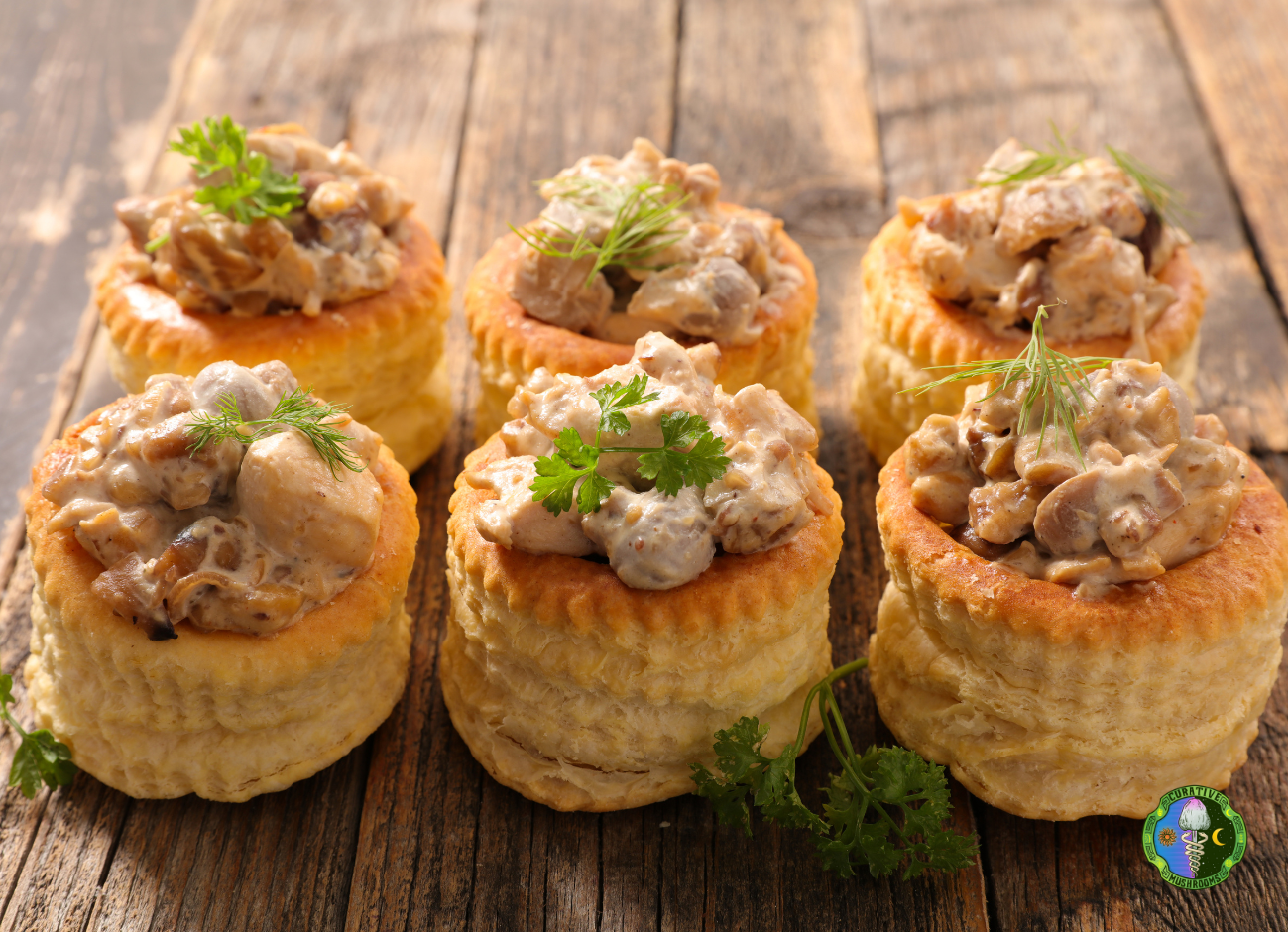 Mushroom Duxelles can be spooned into vol-au-vents, creating bite-sized, delectable appetizers. The contrast between the crispy pastry and the creamy duxelles is a flavor sensation. Whether you're hosting a cocktail party or looking for an elegant starter for a formal dinner, these delicate puff pastry cups filled with Mushroom Duxelles are sure to impress.
3. Chicken or Pork Roulades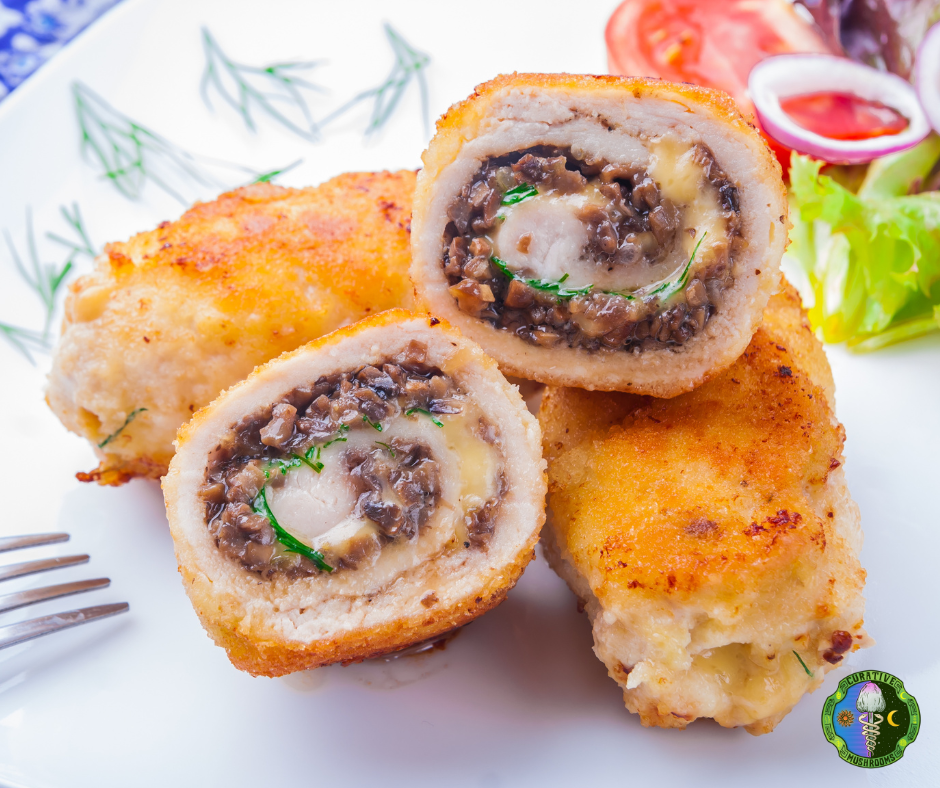 Roll Mushroom Duxelles into chicken or pork roulades for a gourmet twist on these classic dishes. It not only enhances the flavor but also keeps the meat moist and succulent. These roulades make for an impressive main course that's perfect for dinner parties or special family gatherings. The duxelles, when enclosed in the meat, infuse it with a rich, earthy taste.
4. Savory Tarts and Quiches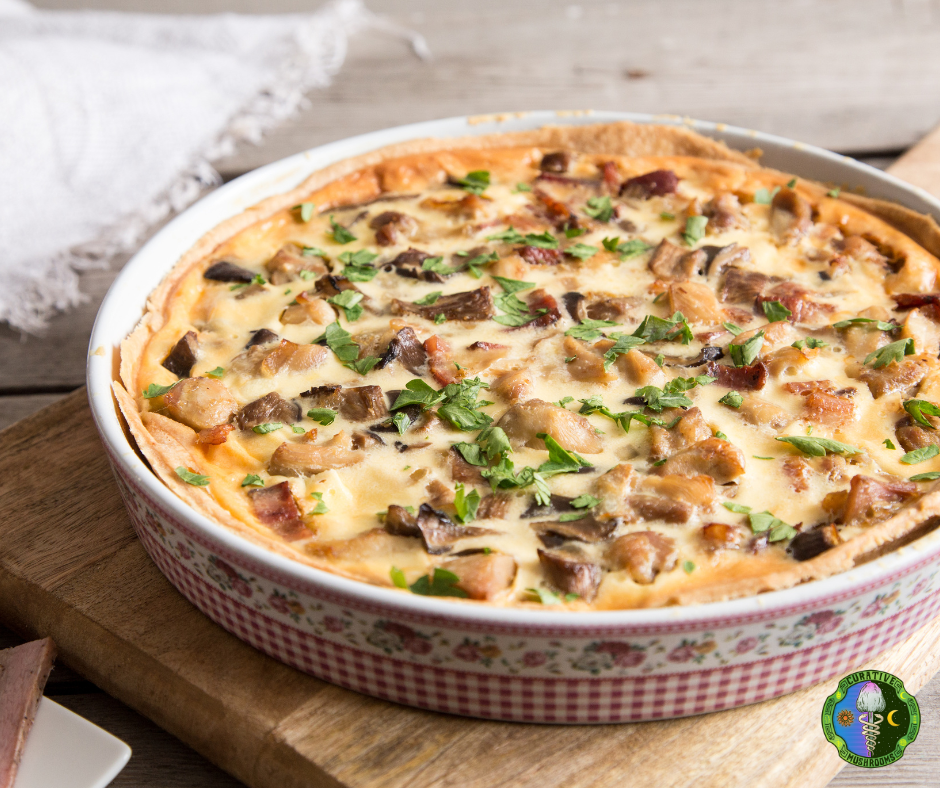 Spread a layer of Mushroom Duxelles as a base in savory tarts and quiches. It adds depth and richness to these delightful baked creations. The duxelles serve as a flavorful foundation, complementing the eggs and cream in quiches or enhancing the medley of ingredients in savory tarts. The result is a delicious, custardy filling that's hard to resist.
5. Stuffed Mushrooms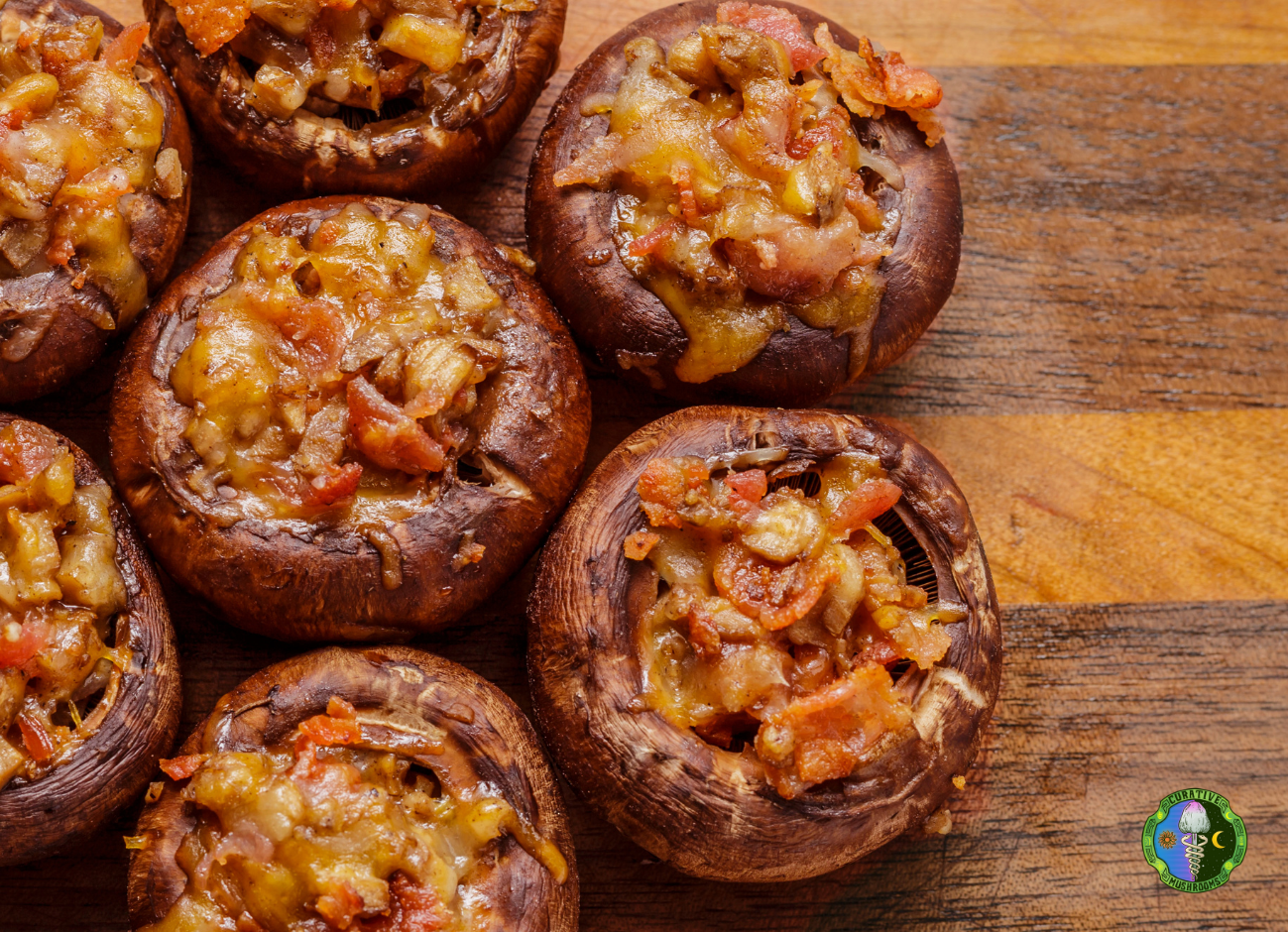 Turn the tables by using Mushroom Duxelles as a stuffing for larger mushroom caps. Bake until golden brown and serve as an appetizer. These stuffed mushrooms are a delightful combination of flavors and textures, with the duxelles providing a savory contrast to the tender, roasted mushroom caps.
In conclusion, Mushroom Duxelles is a culinary secret that deserves to be shared. Its rich, earthy flavor and versatility make it an ideal ingredient to elevate a wide range of dishes, from elegant entrees to simple snacks. Whether you're preparing a lavish dinner or looking to impress your guests, this Mushroom Duxelles recipe is your ticket to gastronomic success. Embrace the art of Mushroom Duxelles, and let your taste buds embark on a delectable journey.

________________________________
FDA DISCLAIMER
Curative Mushrooms has to post the standard FDA Disclaimer…The statements made regarding medicinal mushrooms have not been evaluated by the Food and Drug Administration. The efficacy of these products has not been confirmed by FDA-approved research. Curative Mushrooms is not making claims intended to diagnose, treat, cure or prevent any disease. All information presented here is not meant as a substitute for or alternative to information from healthcare practitioners. Please consult your healthcare professional about potential interactions or other possible complications before consuming the medicinal mushrooms. The Federal Food, Drug and Cosmetic Act requires this notice.
MEDICAL DISCLAIMER
This content is for informational and educational purposes only. It is not intended to provide medical advice or to take the place of such advice or treatment from a personal physician. All readers/viewers of this content are advised to consult their doctors or qualified health professionals regarding specific health questions. Neither Curative Mushrooms nor the publisher of this content takes responsibility for possible health consequences of any person or persons reading or following the information in this educational content. All viewers of this content, especially those taking prescription or over-the-counter medications, should consult their physicians before beginning any nutrition, supplement or lifestyle program.
_________________________________