How to Make Chaga Tea & Other Chaga Mushroom Recipes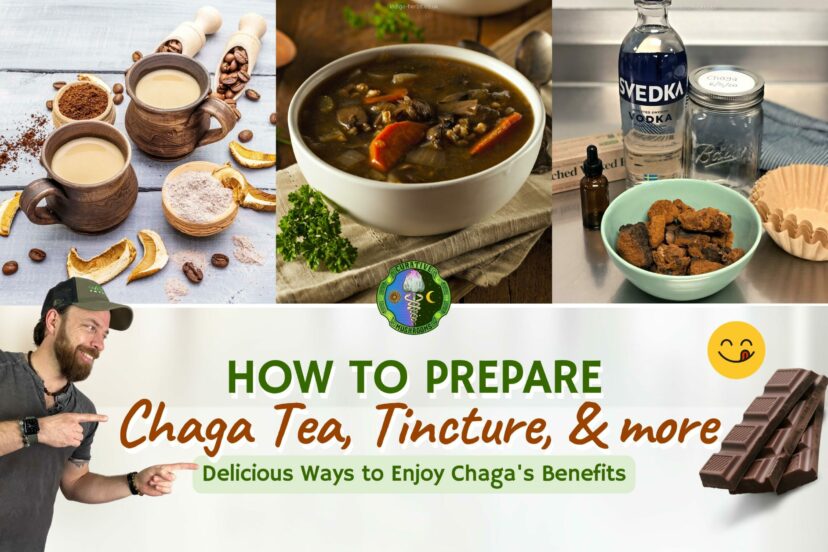 Enjoying the benefits of Chaga is easy with these delicious recipes! Learn how to make Chaga tea and more in this article.
Beyond Chaga Tea: Unique Ways to Enjoy the Benefits of Chaga
Whether you're a seasoned mushroom enthusiast or just looking for a new healthy beverage option, keep reading to learn more about the incredible benefits of Chaga and how to incorporate them into your diet.

Flavor Profile
Chaga has a unique flavor profile that is earthy, woody, and slightly bitter. Some describe the taste as similar to that of black tea, with hints of vanilla or cinnamon.
Moreover, the flavor of Chaga can be enhanced by roasting or simmering them in water for an extended period of time, which can bring out their nutty and slightly sweet undertones.
When used in culinary preparations, Chaga is often paired with other robust flavors such as chocolate, coffee, or spices like cinnamon and ginger.
Popular Chaga Mushroom Recipes
Before exploring the culinary uses of Chaga, it's important to note that sourcing it from a reputable supplier is crucial to ensure its sustainable harvest. Once obtained, you can use freshly harvested Chaga or a store-bought Chaga powder for culinary purposes. Here are some common culinary uses of Chaga that showcase its unique flavor and potential health benefits:
1. How to Make Chaga Tea Recipe
One of the most popular ways to consume Chaga is by brewing them into a tea. Specifically, Chaga tea is made by steeping dried Chaga in hot water for several hours, resulting in a rich, earthy flavor.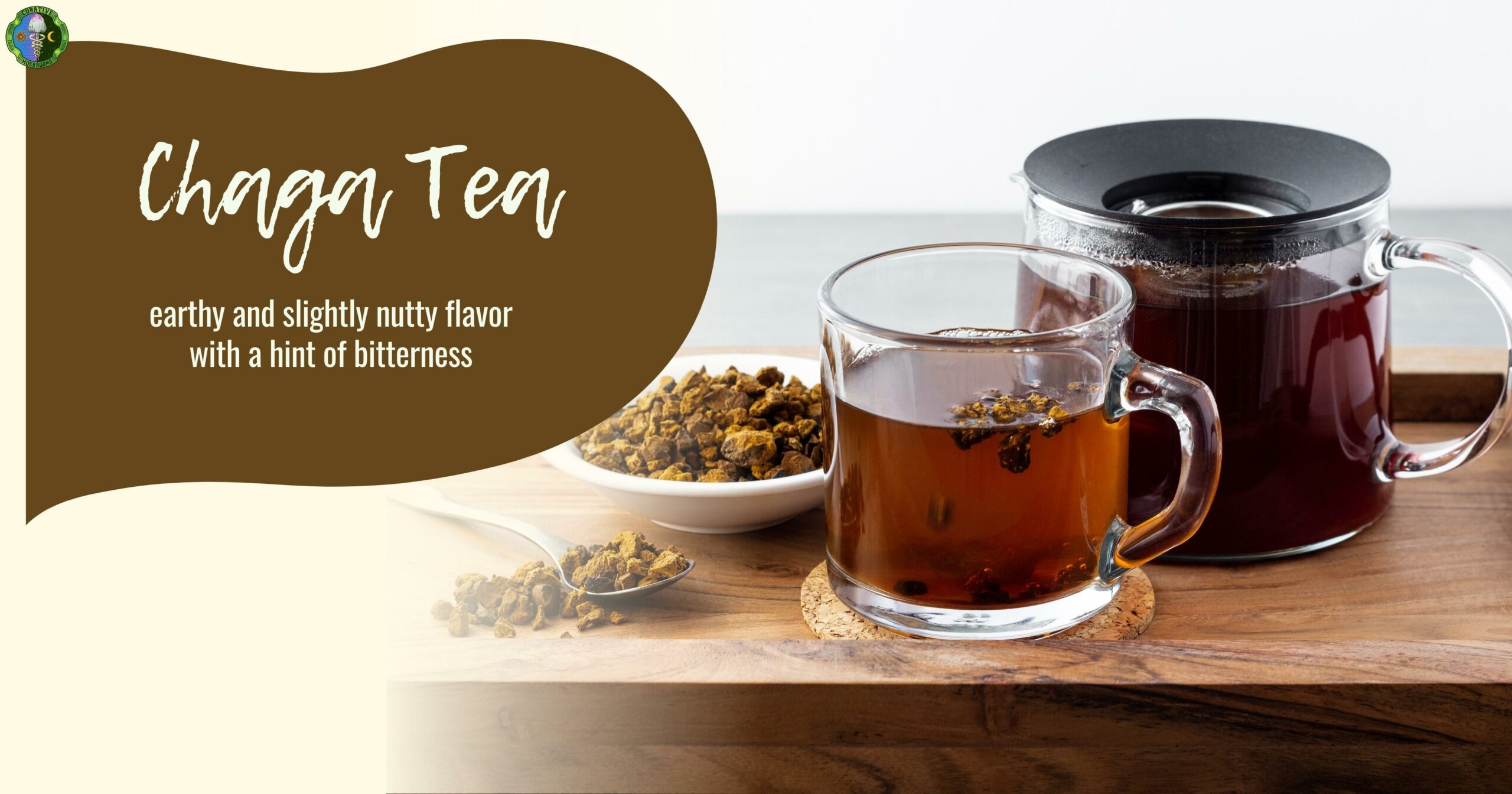 Ingredients:
1-2 pieces of dried Chaga (about 2-3 inches in size)

4 cups of water

Optional: sweetener of your choice (honey, maple syrup, etc.)
Instructions:
Firstly, clean the Chaga with a damp cloth to remove any dirt or debris.
Next, with a knife, break the Chaga into small chunks for more surface area to release nutrients and flavor.
In a pot, bring 4 cups of water to a boil.
Add the Chaga chunks to the boiling water.
Then, reduce the heat to a simmer and let the Chaga steep for at least 1 hour. For maximum health benefits, some people recommend letting it steep for up to 8 hours.
After steeping, strain the tea through a fine mesh strainer to remove any remaining fungus pieces.
If desired, add sweetener to taste.
Finally, enjoy the tea hot or cold!
Note: You can reuse the same Chaga chunks to make additional batches of tea. Simply store them in the refrigerator in between uses. However, it's important to note that the flavor and nutrients will become less potent with each subsequent use.
2. How to Make Chaga Coffee
This is a popular alternative to regular coffee that provides a milder taste and natural energy boost. Specifically, Chaga coffee is made by brewing a combination of ground coffee beans and Chaga powder.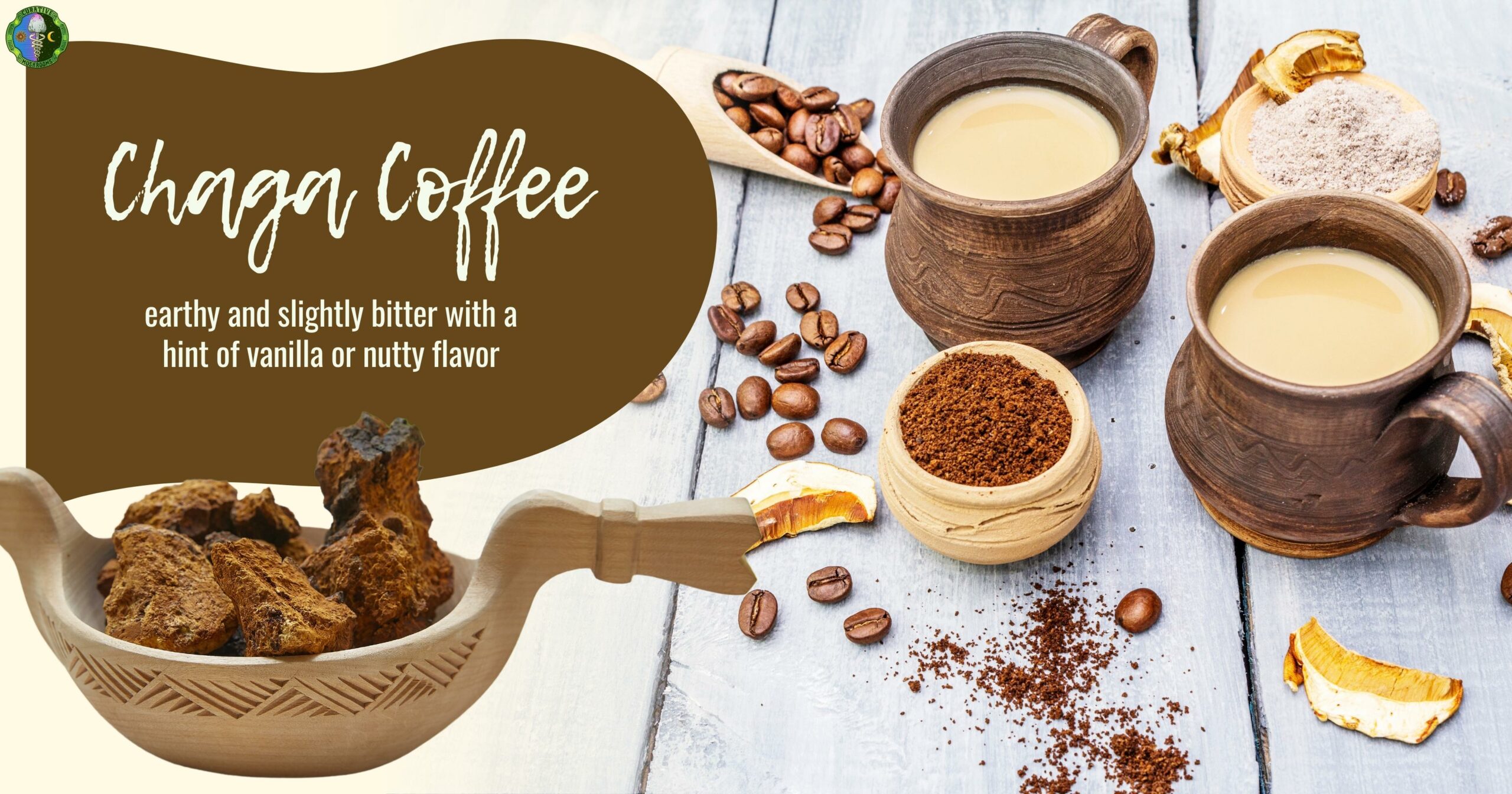 Ingredients:
1 tablespoon of finely ground Chaga powder

2 tablespoons of coffee grounds

2 cups of water

Milk or non-dairy milk alternative (optional)

Sweetener of your choice (optional)
Instructions:
First, in a coffee filter or French press, combine 1 tablespoon of finely ground Chaga powder with 2 tablespoons of coffee grounds.
Next, bring 2 cups of water to a boil.
Then, pour the boiling water over the Chaga and coffee mixture in the filter or French press.
Let the mixture steep for 5-10 minutes, depending on how strong you like your coffee.
After steeping, remove the filter or press down the plunger of the French press to separate the liquid from the grounds.
If desired, add milk or a non-dairy milk alternative and sweetener to taste.
Finally, enjoy your delicious Chaga coffee!
Note: When making Chaga coffee, you can adjust the amount of Chaga powder and coffee grounds to your liking. However, it's important to be careful not to add too much Chaga powder, as it can have a bitter taste if overused.
3. How to Make Chaga Broth
This is a hearty and flavorful soup that features Chaga fungus as a key ingredient. Notably, Chaga soup can be made with a variety of vegetables and seasonings, and it provides a nutritional boost to any meal.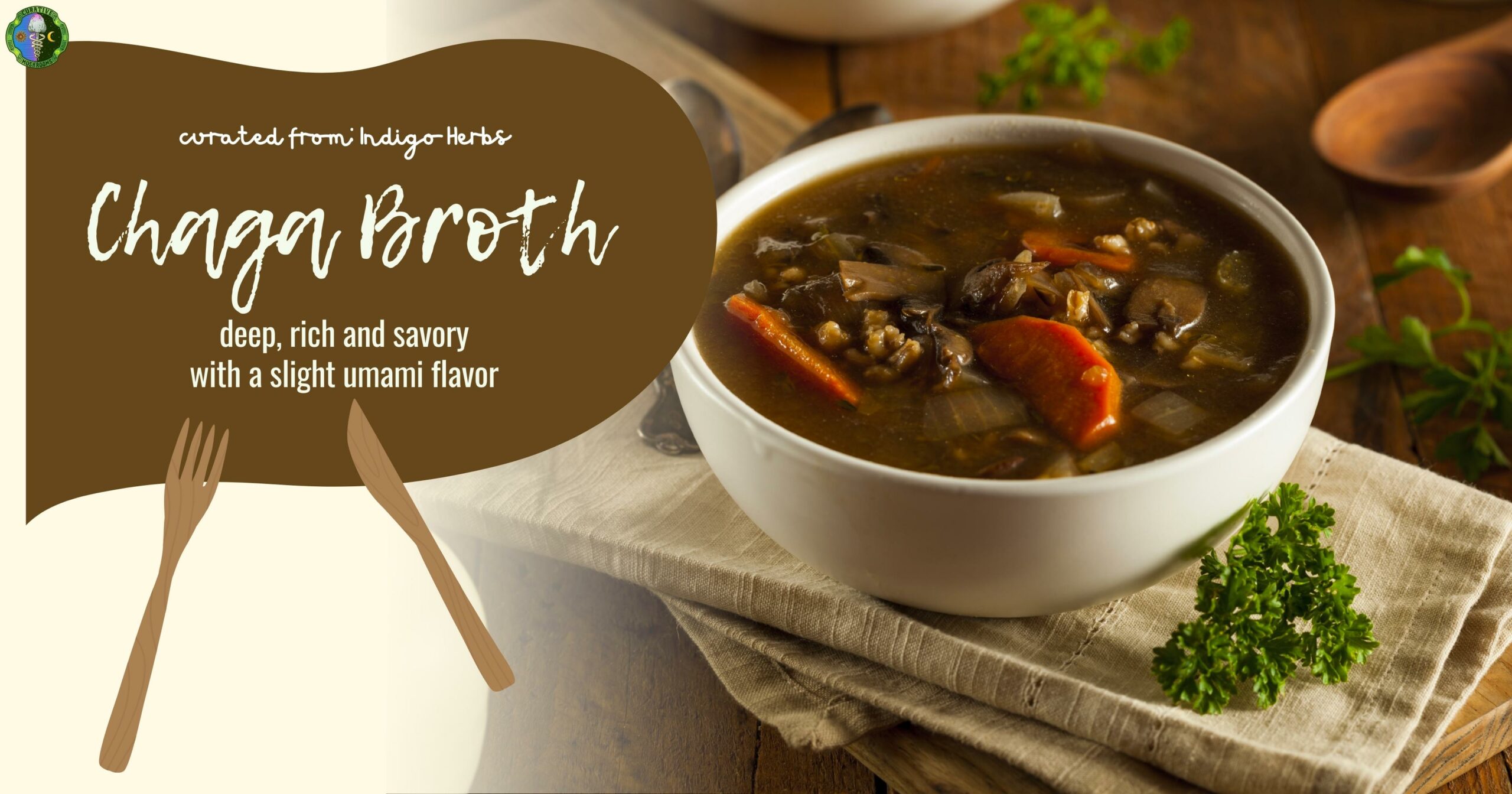 Ingredients:
1/4 cup of dried Chaga pieces

4 cups of water

Salt, to taste
Instructions:
First, rinse the dried Chaga pieces in cold water and pat them dry with a paper towel.
Next, in a large pot, combine the Chaga pieces and water.
Bring the mixture to a boil over high heat, then reduce the heat to a simmer.
Let the Chaga broth simmer for at least 30 minutes, or up to 2 hours, until the liquid has reduced to about half its original volume.
Strain the Chaga broth through a fine-mesh sieve or cheesecloth, discarding the Chaga pieces.
Finally, season the broth with salt to taste, and serve hot or store in the refrigerator for later use.
Note: You can use this broth as a base for soups, stews, and sauces, or enjoyed on its own as a flavorful and nutritious drink. Additionally, feel free to add other herbs, spices, or vegetables to the broth to enhance its flavor and nutritional value.

4. How to Make Chaga Tincture
A tincture is a concentrated liquid herbal extract that can be taken orally or added to drinks. Specifically, Chaga tinctures are made by steeping the in alcohol, which extracts the beneficial compounds.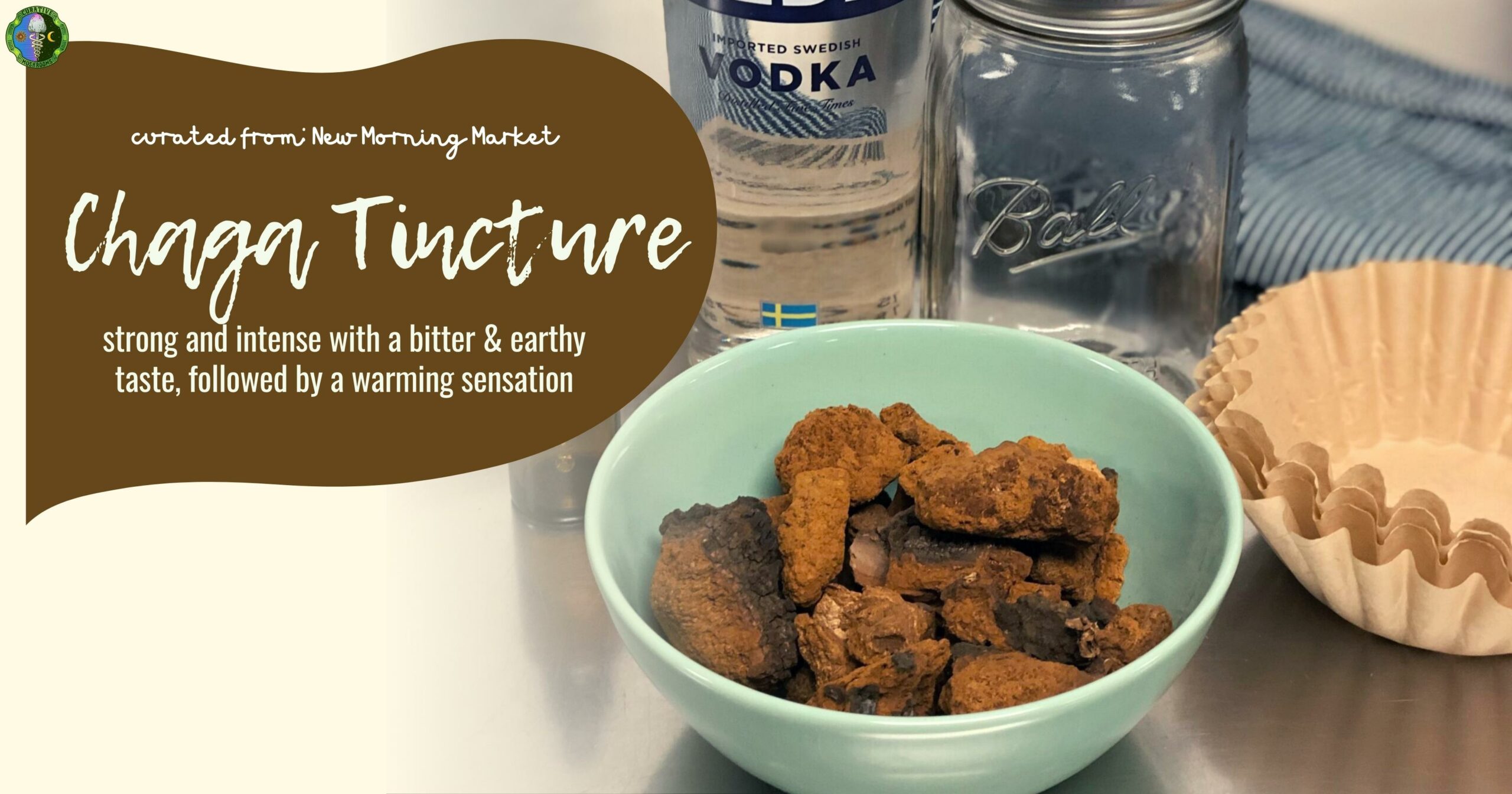 Ingredients:
1/2 cup of dried Chaga pieces

1 cup of high-proof alcohol (such as vodka or brandy)

Glass jar with a tight-fitting lid

Cheesecloth

Funnel
Instructions:
Firstly, rinse the dried Chaga pieces in cold water and pat them dry with a paper towel.
Secondly, cut the Chaga pieces into small chunks and place them in the glass jar.
Then, pour the alcohol over the Chaga pieces until they are completely submerged.
Afterward, seal the jar with the lid and give it a good shake.
Next, store the jar in a cool, dark place for at least 4 weeks, shaking it once a day to distribute the Chaga extracts.
Once the 4 weeks have passed, strain the Chaga tincture through a cheesecloth-lined funnel into a clean glass jar or dropper bottle.
Finally, store the Chaga tincture in a cool, dark place and use as needed.
Note: Chaga tincture is a concentrated form of Chaga extract, and can be added to water or other beverages to boost their nutritional value.
5. How to Make Chaga Hot Chocolate
Chaga hot chocolate is a delicious and nutritious twist on a classic favorite.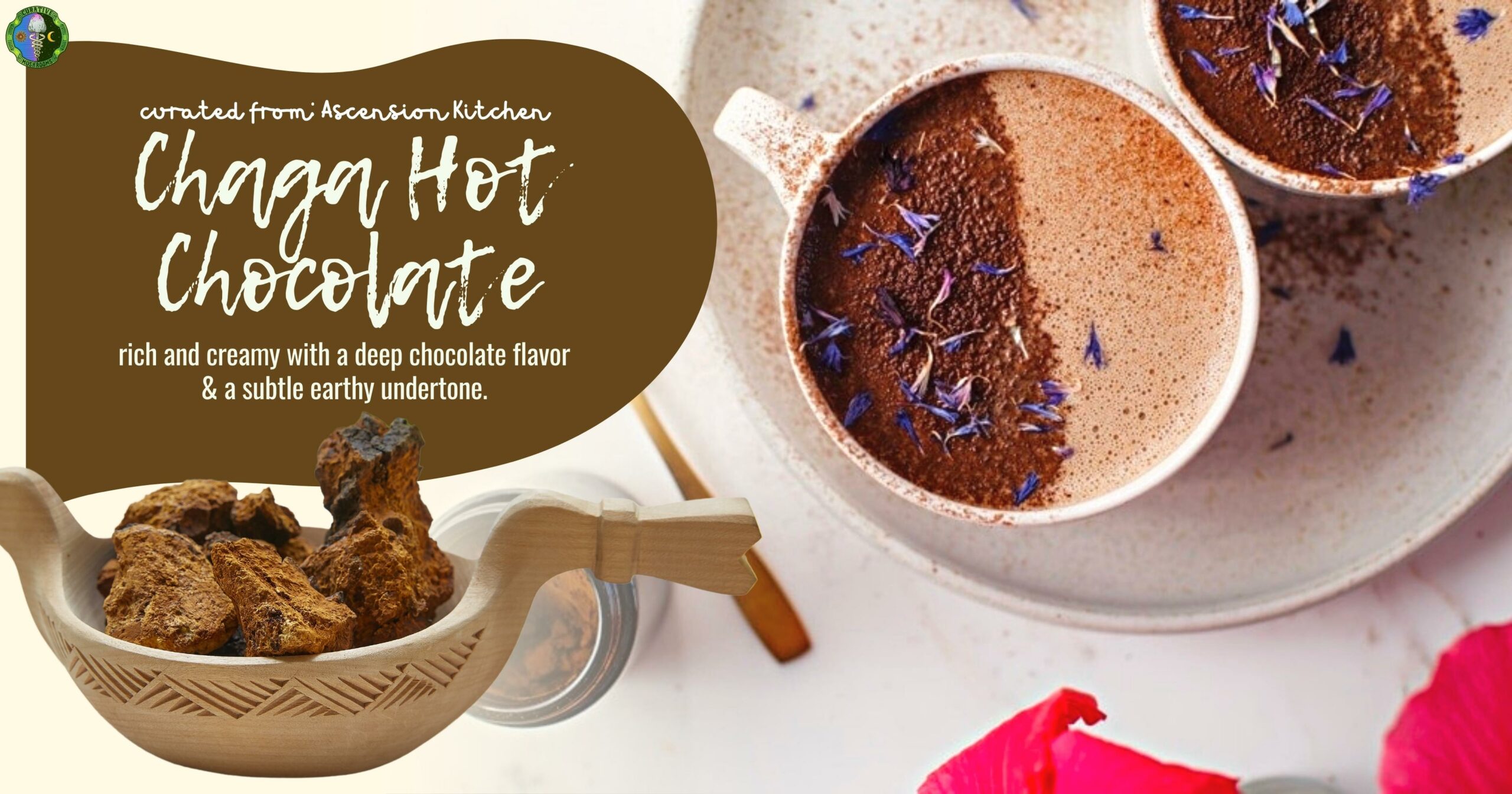 Ingredients:
2 cups of milk (or plant-based milk)

1/4 cup of dark chocolate chips (or chopped dark chocolate)

1 tablespoon of raw cacao powder

1 tablespoon of honey (or sweetener of your choice)

1/2 teaspoon of vanilla extract

1/4 teaspoon of ground cinnamon

1 tablespoon of Chaga powder
Instructions:
To begin, in a small pot, heat the milk over medium-low heat until it begins to simmer.
Next, add the dark chocolate chips, raw cacao powder, honey, vanilla extract, and ground cinnamon to the pot.
Then, stir the mixture until the chocolate chips are melted and the ingredients are well combined.
Afterward, add the Chaga powder to the pot and whisk until it's fully incorporated.
While continuing to heat the mixture over low heat, stir occasionally for an additional 2-3 minutes.
Once the mixture is ready, remove the pot from heat and pour the Chaga hot chocolate into mugs.
Finally, enjoy immediately and garnish with whipped cream, marshmallows, or chocolate shavings, if desired.
Note: Chaga powder adds a subtle earthy flavor and provides a host of health benefits. Feel free to adjust the sweetness or add more Chaga powder to suit your taste.
Summary | Chaga's Culinary Use
Indeed, Chaga fungus is a versatile addition to any diet, offering a range of options for consumption. Popular methods include brewing Chaga tea, adding Chaga powder to coffee, or making Chaga broth. Additionally, another option is making Chaga tinctures for a concentrated herbal extract. Overall, incorporating Chaga into your diet can provide a delicious and flavorful experience.

________________________________
FDA DISCLAIMER
Curative Mushrooms has to post the standard FDA Disclaimer…The statements made regarding medicinal mushrooms have not been evaluated by the Food and Drug Administration. The efficacy of these products has not been confirmed by FDA-approved research. Curative Mushrooms is not making claims intended to diagnose, treat, cure or prevent any disease. All information presented here is not meant as a substitute for or alternative to information from healthcare practitioners. Please consult your healthcare professional about potential interactions or other possible complications before consuming the medicinal mushrooms. The Federal Food, Drug and Cosmetic Act requires this notice.
MEDICAL DISCLAIMER
This content is for informational and educational purposes only. It is not intended to provide medical advice or to take the place of such advice or treatment from a personal physician. All readers/viewers of this content are advised to consult their doctors or qualified health professionals regarding specific health questions. Neither Curative Mushrooms nor the publisher of this content takes responsibility for possible health consequences of any person or persons reading or following the information in this educational content. All viewers of this content, especially those taking prescription or over-the-counter medications, should consult their physicians before beginning any nutrition, supplement or lifestyle program.
_________________________________