Heroic Dose and Microdosing Mushrooms: Magic Mushroom Dosage Calculator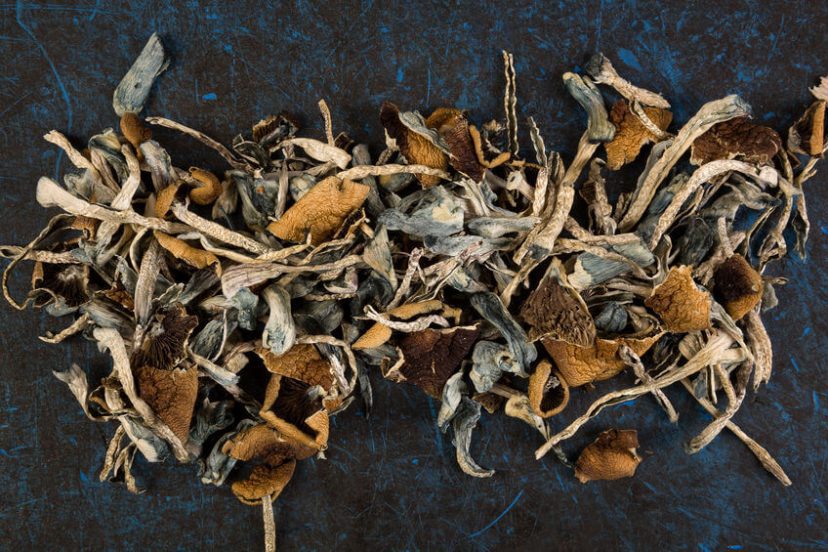 A magic mushroom dosage differs with 180 different species and can have a 12x difference in potency. Here are the correct Heroic dose & Microdosing amounts.
Before you read this article I recommend that you read another article we have written that shows the top 10 types of psilocybin mushrooms and their different potency levels.
Different types of psilocybin mushrooms you will see have three main types of active ingredients that cause the psychedelic effect:
Psilocybin:  This gets converted into psilocin once you eat the mushroom.
Psilocin:  This causes causes the psychedelic effects that psychedelic mushrooms are most resound for.
Baeocystin:  It is a psilocybin derivative or analog and serves the same purpose as psilocin in the body.
So once you have determined the type of magic mushroom you are going to consume you need to look to see what the total potency is by adding all three of these together.  Check out my other article here for your type of mushroom.
Now that you understand how to determine the potency lets take a look at how to calculate the correct magic mushroom dosage…
Magic Mushroom Dosage Calculator by Body Weight
One way to determine the correct magic mushroom dose and how much shrooms to take would be to base it on your body weight (1,000 mg = 1 g):
Average Dose: 0.25 mg per 1 kg (2.2 lbs) of body weight
High Dose: 0.5 mg per 1 kg (2.2 lbs) of body weight.
Extreme Dose: 1 mg per 1 kg (2.2 lbs) of body weight.
For most people the dosages would be as follows:
Average Dose: 20 mg potency
High Dose: 40 mg potency
Extremely High Dose: 80 mg potency
Psilocybe Cubensis has the following active ingredient percentages:
Psilocybin: 0.63%
Psilocin: 0.60%
Baeocystin: 0.025%
This means 1 dried gram of Psilocybe Cubensis would have 12.6 mg of potency.
If you were to take Psilocybe Cubensis you could follow the following dried weights of the mushroom:
Microdose: 1/10th of 1 gram (.26 mg of potency) is a microdose (4 days on 3 days off)(some people do 5 days on 2 days off)
Lift Off: 1 gram (12.6 mg of potency) is lift off
Hero's Journey: 5 grams (63 mg of potency) is a Hero's Journey
Some people break down the doses differently however these doses are based on Paul Stamets dose recommendations.
Mental Health Benefits of Microdosing Mushrooms
Limited studies of psilocybin have been done on microdosing but they do show the potential for improving cognitive function [10].  Additionally, Paul Stamets believes in the Stoned Ape theory which involves the doubling of size of the human brain over 200,000 years by consuming magic mushrooms.

Paul suggest that if more people are to microdose that it could lead to "the next quantum leap in human consciousness."
There have also been cased where micrdosing aides with depression as well [11].
If you choose option 1 (Microdose) then at this level you wont really feel any of the effects of psilocybin.  It will almost be like taking it as a supplement.
You can also stack magic mushrooms with Lion's Mane mushroom and Niacin for increased benefit according to Paul Stamets:
Lion's mane has many neuron boosting properties to help the brain but there is one study where 30 females were split into 2 groups where one was given Lion's Mane mushroom cookies against a control group who was given a placebo for 4 weeks.  They showed "Concentration", "irritating" and "anxious" feeling were lower in the group that took the Lion's Mane mushroom cookies [13] which shows Lion's Mane's potential for treating depression.
You can check out another article I have written on the top 10 health benefits of Lion's Mane mushrooms.
Benefits of Niacin
It is also suggested that Niacin has the ability to get the substances to pass the blood brain barrier and to also allow the psilocybin to reach nerve ending that psilocybin would not be able to reach on it's own.
In a clinical trial done where 29 patients with cancer related anxiety and depression were given psilocybin therapy in conjunction with niacin showed that after 6 months 60 to 80% had significantly lowered anxiety and depression levels [14].
Paul Stamets recommended Stack:
Psilocybin: 1-10 mg

Erinacines/Hericenones: 50-200 mg
Niocin: 101-200 mg
**Erinancines/Hericenones are natural substance isolated from the Lion's Mane mushroom.  You can also take a Lion's Mane mushroom that contains a percentage of these substances equal to the amount listed (e.g. 1 gram of Lion's Mane mushroom that contains 1% is equivalent to 10 mg).**
One final note about microdosing, the reason you need to do 4 or 5 days on followed by 2 to 3 days off is to allow your body to basically reset it's effectiveness.  Think about when you drink coffee (or any caffeine drink) regularly and then you take one or two days off…That next cup of coffee you have is super strong.  That's the same thing with microdosing.
Like This Article?  Pin It on Pinterest!
Lift Off Dose
Even though this is a higher dose than a microdose it would still be considered a lower dose but you will definitely feel the effects.
You will typically have enhanced hearing and you will see brighter colors but wont really have to much visual or audio hallucinations.
Mushrooms Tolerance Calculator: How Much Shrooms Should a Beginner Take
Many people recommend this ammount of shrooms for the first time and slowly increment by 1 gram of dried mushroom to start to get a feel for your own personal tolerance levels.
As you increase to 2 grams you will start to gradually see more and more positive effects to include:
Visual geometric patterns.
Noticeable changes to hearing perceptions.
At 3 grams you will start to experience:

Visual waves which makes you aware of your liquid state of being.
By 4 grams your experience will really start to get intense and last anywhere from 4 to 5 hours.
Heroic Dose of Mushrooms
The Heroic dose would be 5 grams or more and can be very overwhelming and last around 6 hours (but not typically longer than that).
The Heroic dose is what is defined by Terence McKenna as being a life altering dosage.
In this stage you will be start to gain a new understanding of the world and how everything is linked together.  When you recover from this dose you will no longer see the world the same way you did before.
You will begin to step away from your life and be able to gain a deeper understanding of the issues and problems in your life and your brain will create new connections on how to deal with these problems.
Many people report no longer struggling with PTSD or depression and have a new resounded sense of happiness with people in their life and the world while at the same time no longer being fearful of death.
Paul Stamets describes this as a gateway to the mycelium network and is a truly spiritual experience.
Important Restrictions
It is not recommended to do over 7  grams as that should be considered the highest dose.  If you do, it is very important to ensure that your set and setting are very supportive and safe.  Additionally, you could lose muscle control and strength lasting into the following day.
If your are new then start with half the dose of psilocybin and after an hour and thirty minutes you can up the amount.
Here is a good story told by Paul Stamets that explains how he took 25 grams when he had a severe stuttering problem and the next day he was completely cured:

Magic Mushroom Setting
If you are doing a Heroic Dose then your setting will be very important.  Many people recommend being in a dark place alone in your room or covering your eyes up.   Some people even put on a some mellow music to listen to.
I agree like Paul Stamets recommendation of being out in nature when you do it.  Since this mushroom is a gateway to seeing the world as it really is and it comes from nature, in which is the true nature of the world, then you should want to experience and see nature as it really is.
Paul likes to go to high point on a bluff near the ocean at 30 minutes before sunset for his experience.  He also recommends having someone you trust there that is not using to observe and make sure everything is safe at all times.
Conclusion
Now you have an understanding of how important it is to understand which type of magic mushroom you are consuming because some of them can be 12x more potent than others.
Once you have determined the potency of the mushroom you are consuming you can then use the information above to determine the correct heroic dose, lift off dose or microdose that you want to have.
From hear you might be interested to learn more about one of the following:
1)  The health benefits and side effects of magic mushrooms
2)  How to get safely get magic mushrooms even if they are illegal where you live
Take care and please share this article if you enjoyed!
---
References
10.  Prochazkova, L., et al. (2018). "Exploring the effect of microdosing psychedelics on creativity in an open-label natural setting." Psychopharmacology (Berl).

11.  https://www.psychologytoday.com/us/blog/talking-about-trauma/201912/could-micro-dosing-psychedelics-lift-depression
13.  Nagano, M., Shimizu, K., Kondo, R., Hayashi, C., Sato, D., Kitagawa, K., & Ohnuki, K. (2010). Reduction of depression and anxiety by 4 weeks hericium erinaceus intake. Biomedical Research (Tokyo, Japan), 31(4), 231-7. Retrieved from PubMed.
14.  Ross, S., et al. (2016). "Rapid and sustained symptom reduction following psilocybin treatment for anxiety and depression in patients with life-threatening cancer: a randomized controlled trial." Journal of psychopharmacology (Oxford, England) 30(12): 1165-1180.
---
Link Attribution for Image and Videos:
The following presentations contain images/videos that were used under a Creative Commons License. Click the links below to see the full list of images/videos and attributions:
Podcast Video:
https://link.attribute.to/cc/1315883
YouTube Video:
https://link.attribute.to/cc/949598
---
Legal Disclaimer:
This information is intended for education purposes only…
Psilocybin remains illegal under federal law in the United States.  We do not advocate for, endorse, or intend for this report to be used to violate federal law.
________________________________
FDA DISCLAIMER
Curative Mushrooms has to post the standard FDA Disclaimer…The statements made regarding medicinal mushrooms have not been evaluated by the Food and Drug Administration. The efficacy of these products has not been confirmed by FDA-approved research. Curative Mushrooms is not making claims intended to diagnose, treat, cure or prevent any disease. All information presented here is not meant as a substitute for or alternative to information from healthcare practitioners. Please consult your healthcare professional about potential interactions or other possible complications before consuming the medicinal mushrooms. The Federal Food, Drug and Cosmetic Act requires this notice.
MEDICAL DISCLAIMER
This content is for informational and educational purposes only. It is not intended to provide medical advice or to take the place of such advice or treatment from a personal physician. All readers/viewers of this content are advised to consult their doctors or qualified health professionals regarding specific health questions. Neither Curative Mushrooms nor the publisher of this content takes responsibility for possible health consequences of any person or persons reading or following the information in this educational content. All viewers of this content, especially those taking prescription or over-the-counter medications, should consult their physicians before beginning any nutrition, supplement or lifestyle program.
_________________________________