Sterilization For Mushroom Cultivation | Sterilizing Mushroom Substrate in the Cheapest & Most Effective Way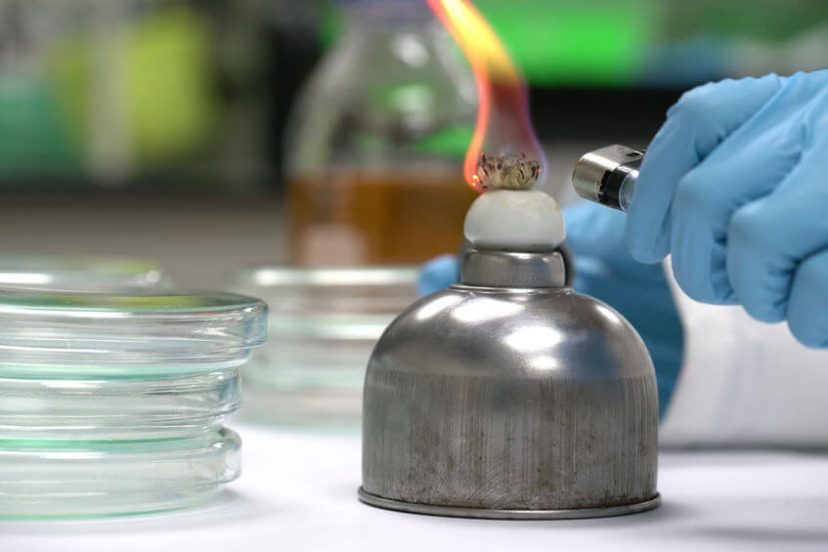 Correct sterilization for mushroom cultivation can be the difference in having a 50% chance of contamination or a 0% to 5% chance of contamination. Having sterilized mushroom substrate is the most important thing when starting the contamination process.
The only reason you need to worry about being sterile is to prevent contamination of other fungus that may try to colonize your substrate.
Once the substrate has been fully colonized by the mushroom mycelium then you will no longer have to worry about being sterile or contamination because the mycelium will be able to fight off any competition at that point.
The time that you need to worry about contamination is when you are first trying to get the mycelium to colonize the substrate.  At this point the mycelium isn't super strong and could be beaten out by a different fungus or bacteria.
You can tell if your mycelium is fighting another fungi because it will produce a brown liquid.  If the other fungi start to grow you will see different colors like green or red.  If the mycelium wins it will be white (some molds can form a 'spider webby' like white texture as well).
Fun or Profit
All that being said, having sterilized mushroom substrate is really up to you and your goals.  If you are just doing this for fun then you might not worry about contamination, however if you are trying to do this for profit then you need to eliminate every possible chance of contamination that you can because it will cost you time and money every time one of your bags gets contaminated.
Not only that, but it could risk all your other bags from betting contaminated because other fungi will spread there spores in your room/air and then you are in big trouble.
So, now lets' talk about setting up a sterile environment so that you can put your risk of contamination down to between 0% – 5%…
---
Working With Spores or Cultures
If you are working with spores or cultures you will want to work in front of a laminar flow hood.  This is basically a big box fan that is blowing air towards you with a big HEPA filter on it.
The purpose of the laminar flow hood is to create sterile air around where you are working so air born particles can't contaminate what you are working with.
Here is a video on how to create your own laminar flow hood or you could buy a laminar flow hood at fungi perfecti:
In the video above you will need to buy the plywood to cut to size, blower fan and a box HEPA micron filter to .3 microns.  Another option that I haven't tried but I think would work (and be very cheap) is the following:

If you want to go the cheapest route you can make a still air box.  That is essentially a clear tote with 2 holes cut out for your hands to stick into using a 4 inch hole saw bit.  You then do all your work under this tote (a little more cumbersome to use though):
Also, have some isopropyl alcohol/water mixture (70% alcohol and 30% water…basically rubbing alcohol) in a spray bottle handy so you can spray everything (including your hands) before you use it.  They also have special bottles for squeezing out the alcohol mixture into your hands called a squeeze wash bottle.
Safety Tips
1)  Mask: Wear a dust mask to prevent anything from your mouth getting on anything
2)  Shower Cap:  Wear a shower cap to prevent your hair from falling into anything.
3)  Gloves: You may also want to wear rubber gloves and spray them with alcohol before working as well.  More sterile than using your hands because it can be hard to clean under and between your finger nails.
4)  Flame Alcohol Lamp:  Use a flame alcohol lamp to sterilize your scalpel and syringe needle by making it red hot before cutting mushrooms, cutting culture samples or injecting your substrate.
Now lets talk about sterilized mushroom substrate…
---
Sterilized Mushroom Substrate
For having sterilized mushroom substrate you have different options for what you can do:
1)  Hydrated Lime Pasteurizing
If you are sterilizing straw you could use hydrated lime.  Add 175 grams of hydrated lime to 100 litres of water and soak the straw for 12 to 18 hours.  Then drain the straw out for 1 hour.
This works by raising the potential hydrogen (PH) levels in the water to the max levels (around 14) in which almost no other competing fungi can survive.  This is okay for us though because mushrooms can still live in high PH environments.

Remember what I said in the beginning of the article…mycleium is very resilient and can fight off a lot of competitors on its own.  Therefore, this method works very well even though it doesn't kill 100% of the competition but it is much more energy efficient because you don't need to heat the water.
2)  Hot Water Pasteurizing 
If you are sterilizing straw you could heat a metal drum with water in it up to 149 – 167 degrees Fahrenheit for 1 to 2 hours.  Then drain the straw for 15 – 20 minutes.  This will kill everything and be more sterile than using hydrated lime pasteurization.
To heat the drum you have the following options:
Prop the barrel up on some cinder blocks and put fire underneath it.
Use an electric drum heating belt around the barrel.
May be easier if you put your straw into a mesh bag before putting it into the water.
3)  Pressure Sterilizer
Almost anything else that you want to sterilize can be done with a pressure sterilizer.  For this you can use a pressure cooker at 15 PSI for the following times:
 Liquid agar solution:  45 minutes
Quart sized grain jars:  90 minutes
Large grain bags (5 pounds):  120 minutes
Large sawdust blocks (5 pounds):  150 minutes
If you are not sure and just want to sterilize something, then 15 PSI at 2 1/2 hours will do the trick.  They come in different qualities:
1)  Best value pressure cooker
2)  Best quality pressure cooker
3)  Stoveless option
Now that you have a good idea on the proper sterilization practices you may want to check out the 7 stages to growing mushrooms for beginners and advanced growers…

7 Stages to Growing Mushrooms
Now that you have sterilization down you may want to check out another article I have written on the 7 stages to growing mushrooms that will help you if you have never grown a mushroom before all the way up to advanced growers that want to grow for profit.
The article will help with the following:
Choosing a mushroom source
Choosing a substrate
Setting up your substrate micro environment
Inoculating your mushroom substrate
The incubation process
Fruiting and bonus flushes
The article will show you how to grow indoors or outdoors and has plenty of how to videos as well as links to all tools you will need:
Now that we have covered the important aspects of sterilization for mushroom cultivation, let's wrap things up…
---
Conclusion
At the end of the day mycelium is very resilient by nature and can fight off a lot of contamination all on its own.  However, if you want to lower your chances of getting contamination from 50% to down to between 0% and 5% then you will definitely want to follow this article's recommendations.
The good news is there are affordable ways to be sterile so you don't have to break the bank account.  However, if budget is not a problem you can go get as fancy as you want with sterilization for mushroom cultivation.
If you are just growing for hobby at home then you can easily get by with the cheaper options I explained however if you are looking to grow mushrooms for profit then you may want to spend a little more money.
Another thing a lot of people do is they outsource the first part of the mushroom growing process.  By this I mean they order pre-made spawn bags so they don't need to buy a lot of this equipment.  Then they just pasteurize their bulk substrate with the pre-made spawn and they are good to go.
Basically, you can cut out (or outsource) different sections of the mushroom growing process and spend you time focusing on other parts of it.
Either way, I hope you enjoyed this article.  And if you did please share it!  Thanks.

Like This Article?  Pin It on Pinterest!
---
Link Attribution for Image and Videos:
The following presentations contain images/videos that were used under a Creative Commons License. Click the links below to see the full list of images/videos and attributions:
Podcast Video:
https://link.attribute.to/cc/1346034
YouTube Video:
https://link.attribute.to/cc/1267936
________________________________
FDA DISCLAIMER
Curative Mushrooms has to post the standard FDA Disclaimer…The statements made regarding medicinal mushrooms have not been evaluated by the Food and Drug Administration. The efficacy of these products has not been confirmed by FDA-approved research. Curative Mushrooms is not making claims intended to diagnose, treat, cure or prevent any disease. All information presented here is not meant as a substitute for or alternative to information from healthcare practitioners. Please consult your healthcare professional about potential interactions or other possible complications before consuming the medicinal mushrooms. The Federal Food, Drug and Cosmetic Act requires this notice.
MEDICAL DISCLAIMER
This content is for informational and educational purposes only. It is not intended to provide medical advice or to take the place of such advice or treatment from a personal physician. All readers/viewers of this content are advised to consult their doctors or qualified health professionals regarding specific health questions. Neither Curative Mushrooms nor the publisher of this content takes responsibility for possible health consequences of any person or persons reading or following the information in this educational content. All viewers of this content, especially those taking prescription or over-the-counter medications, should consult their physicians before beginning any nutrition, supplement or lifestyle program.
_________________________________