How to Clean Hen of the Woods Harvesting Maitake Mushrooms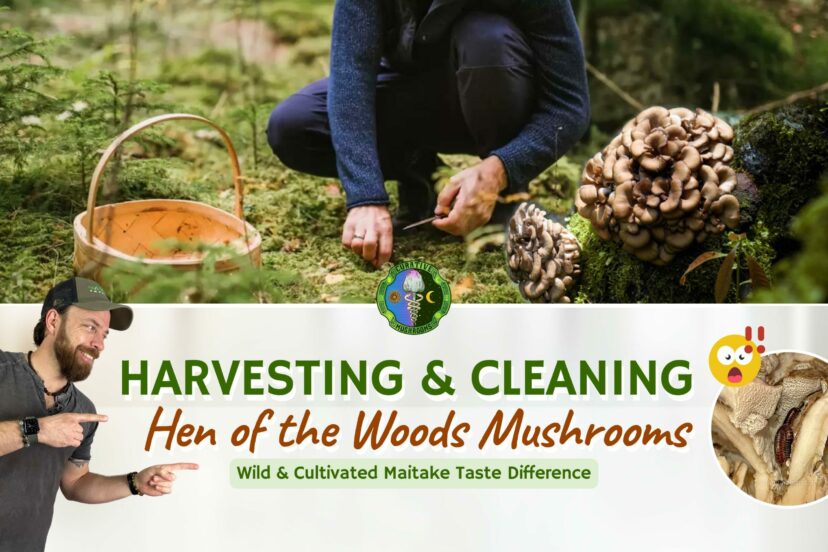 How to clean hen of the woods mushroom? What's the best practice in harvesting maitake mushrooms?
This article will show you the best ways to harvest and clean both wild and cultivated maitake mushrooms.
Harvesting and Cleaning Maitake a.k.a. Hen of the Woods Mushroom
Maitake (Grifola frondosa) a.k.a. Hen of the Woods is a delicious bracket fungus that you can find in the… you got it right—woods.
But before you get to cook the mushrooms, you'll have to clean them. Of course, you would not want to be chewing on wood chips, patches of dirt, and grime.
How do you

harvest

maitake?
Wild maitake, just like the famous chicken of the woods mushroom, grows at the base of trees and stumps. They prefer dying hardwood trees like maple and oak, especially northern red oak trees.
A cluster resembles a hen's feathers covered with leaves, and can weigh as much as ten kilograms (twenty-two pounds)!
In Japan, there are even specimens of wild maitake weighing 50 pounds and some clusters even reach ninety-nine pounds. That is roughly forty-five kilograms!
Maitake mushrooms are best harvested in their mature mushroom stage. That is when the cluster flower already develops into defined caps.
Very young maitakes can easily be pulled and twisted from the ground. Home-grown maitake clusters, especially those from a grow bag can also be harvested with bare hands.
However, mature maitakes may be harder to harvest since they tend to have thicker and tougher stems. To harvest big maitake clusters, you can use a small sharp knife. Simply cut the cluster right at the base, level with the ground.
Do not worry about cutting off the entire part of the cluster as the mycelium (root-like feature) is embedded in the ground. Surely, in the next Maitake season, fruiting bodies will grow in the same place or area.
How do I

clean

hen of the woods mushroom?
If you are to prepare wild maitakes for cooking, it is best to first individually examine parts of the stem and fronds. You will commonly find tiny rock debris, soil, and dead leaves. Although rare, bugs and worms may hide in the crevices of the mushroom.

Since tiny rocks will commonly embed in the stem, you would want to cut off those parts and brush off soil particles. Otherwise, you would risk chewing on them. Also, it's appropriate to wash mushrooms found in the wild to flush off dirt.
According to Executive Chef Joseph Rizza, "Wild mushrooms, like chanterelles or black trumpets, are always full of everything the forest has to offer: bugs, wood chips, pine needles. So washing them thoroughly in water and then laying them out to dry on sheet pans lined with paper towels or kitchen towels for an hour or so is very important."
On the other hand, cultivated or home-grown maitake does not need thorough washing. In fact, cleaning using a 'dry cloth or damp paper towel to wipe off the excess dirt' will suffice.
Moreover, it is not advisable to prolong washing and soaking of maitake mushrooms. This is because absorption of water ruins the texture and taste of mushrooms.
Also, before cooking previously washed mushrooms, it is important to dry them. You can do this by using a clean kitchen cloth or paper towel. Simply gently pat-dry the caps and stem and lay them on a rack to evaporate excess moisture.
According to Registered Dietician Sofia Norton, "Since mushrooms are already high in water, about 85-95 percent, waterlogged mushrooms will develop a diluted flavor and have a rubbery and slimy texture after cooking."
Further, the mushy texture of any mushroom will ruin whatever dish you're cooking with it. The best way to prepare mushrooms is by slightly crisping and browning the outside but keeping the inside tender. "In other words, they need to be caramelized for maximum flavor and best texture," Sofia explains.
What does a maitake mushroom

taste

like?
Maitake mushroom is one of our tastiest polypores, similar to eggplant in the flavor profile. This mushroom has a nice, fresh, woodsy aroma. Add to that its rich earthy umami flavor that has a delicious peppery finish, and a succulent texture. Yum!
What contributes to the taste of maitakes or any mushrooms is the environment and host that they are grown from. Consequently, cultivated maitake tends to have a milder flavor, unlike wild maitake. Chefs describe it as almost tasting like button mushrooms.
Aside from being delicious, maitake mushroom is also consumed for its functional benefits. Research shows that maitake contains high amounts of amino acids, and helps regulate glucose levels and supports immune system.
Can you grow maitake mushrooms at home?
Since hen of the woods (maitake) is a wood-loving mushroom, it can be grown in a wood-based substrate.
But unlike widely-cultivated mushrooms such as Oyster and Shiitake, Maitake is more challenging to grow at home. One primary reason is the availability of growing supplies.

Thus, the easiest way to grow maitake is to buy a pre-inoculated grow bag from suppliers like MycoLabs.
Other options include getting either spore syringe or live liquid culture syringe to inoculate in a wood-based grow bag. Or if you want to grow bigger clusters in your backyard, you can get a maitake sawdust spawn to be plugged in a hardwood log.
In Summary: Harvesting Maitake Mushrooms | How to Clean Hen of the Woods
When it comes to harvesting mature wild maitake clusters, the best way is to use a sharp knife and cut from the stem.
If you find a young cluster, twist-pulling it from the ground will be enough.
Then, you need to examine the stem to remove dirt and worms that may hide in the crevices.
If you are going to wash the mushroom, be sure to not over-soak it in water. And immediately pat each frond dry with a kitchen towel or tissue.
On the other hand, cultivated maitakes do not need thorough cleaning or washing.
________________________________
FDA DISCLAIMER
Curative Mushrooms has to post the standard FDA Disclaimer…The statements made regarding medicinal mushrooms have not been evaluated by the Food and Drug Administration. The efficacy of these products has not been confirmed by FDA-approved research. Curative Mushrooms is not making claims intended to diagnose, treat, cure or prevent any disease. All information presented here is not meant as a substitute for or alternative to information from healthcare practitioners. Please consult your healthcare professional about potential interactions or other possible complications before consuming the medicinal mushrooms. The Federal Food, Drug and Cosmetic Act requires this notice.
MEDICAL DISCLAIMER
This content is for informational and educational purposes only. It is not intended to provide medical advice or to take the place of such advice or treatment from a personal physician. All readers/viewers of this content are advised to consult their doctors or qualified health professionals regarding specific health questions. Neither Curative Mushrooms nor the publisher of this content takes responsibility for possible health consequences of any person or persons reading or following the information in this educational content. All viewers of this content, especially those taking prescription or over-the-counter medications, should consult their physicians before beginning any nutrition, supplement or lifestyle program.
_________________________________