Rhizomorphic vs Tomentose Mycelium: Is Fluffy Growth Better?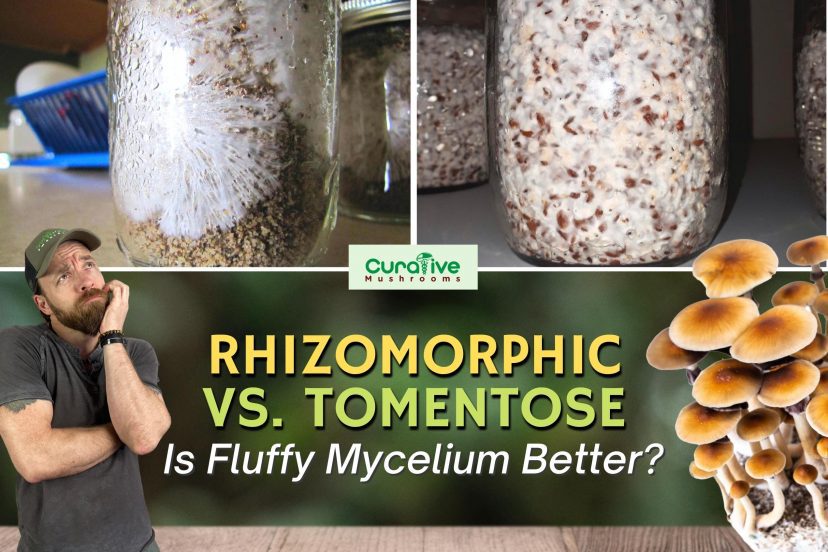 Rhizomorphic vs. Tomentose Mycelium (a.k.a. string-like Mycelium vs. fluffy white Mycelium) is like a battle between a healthy and a moldy grow kit.
If you go to Reddit forums, you will mostly see growers still arguing about which growth type is better.
But is there really a preferred type of mycelium growth? Can a substrate have both kinds of mycelium growth? Will rhizomorphic Mycelium turn tomentose?
Below, we will show you the difference between the two. Then, we will decide if tomentose growth is better.
1. Tomentose fluffy Mycelium
Tomentose growth appears cottony, fuzzy, or matted.
Two probable reasons for this appearance are:
It has many genetic strains.
Hyphal strands of Mycelium do not spread enough to seek nutrients from the substrate, so they grow so close.
2. Rhizomorphic string-like Mycelium
Rhizomorphic Mycelium has the appearance of a defined network of strings or threads.
Such growth may result from:
only one or a few genetic strains
the substrate that is not nutrient-dense.
"Wait! In the first place, I do not know what Mycelium is."
3.1. Can you have both Rhizomorphic and Tomentose growth?
If you grow from mushroom spores, you might notice different substrate areas with string-like and fluffy growth. Contrasting regions of your medium or substrate are called sectors.
Spores may have multiple gene expressions on the substrate, which results in sectoring. When you grow directly from spores to substrate, the type of mycelium growth can be hit and miss.
Mycology can get pretty deep, but the answer is yes; both types of growth may occur in one medium or substrate.
Sometimes, it is not Mycelium but mold.
3.2. Will Tomentose (fluffy Mycelium) turn Rhizomorphic?
Let's take, for example, a grower using an agar dish and grain jar. Both stayed in the tomentose phase while on agar and in grain.
Yet, for some reason, when he spawned them onto the tub, the Mycelium turned rhizomorphic. The tub grew healthy mushroom flushes.
Mycelium will display diverse forms on nutrient agar and will constantly evolve. So Rhizomorphic mycelium can turn Tomentose.
3.3. How to encourage Rhizomorphic growth?
Fluffy mycelium growth is encouraged by broken grains or kernels (a consequence of excessive water). Thus, to promote string-like growth, you need to reduce moisture in your substrate.
Another critical factor is the pH level. The string-like growth is encouraged by substrate at a 6.5 pH level. To maintain a 6.5 pH, growers often use a combination of chalk and gypsum.
Finally, let us decide: Rhizomorphic vs. Tomentose Mycelium. Which is better?
Mostly, you have asked around online forums and groups.
You have probably read narratives of experienced mushroom growers getting better flushes from rhizomorphic Mycelium. String-like Mycelium is correlated to fast mycelium growth and forming of primordia.
Also, when growing from an agar plate, growers suggest cutting out the rhizomorphic thread-like Mycelium. This isolate can be used for your big substrate.

However, even if your Mycelium is tomentose, it does not mean "toss the Tose!" You can still get good flushes out of this Mycelium.
Mycelium growth type is hard to predict. Tomentose may turn into rhizomorphic, and your substrate can develop both types of growth.
Ultimately, the type of growth does not really matter as long as it's not mold growth.*
________________________________
FDA DISCLAIMER
Curative Mushrooms has to post the standard FDA Disclaimer…The statements made regarding medicinal mushrooms have not been evaluated by the Food and Drug Administration. The efficacy of these products has not been confirmed by FDA-approved research. Curative Mushrooms is not making claims intended to diagnose, treat, cure or prevent any disease. All information presented here is not meant as a substitute for or alternative to information from healthcare practitioners. Please consult your healthcare professional about potential interactions or other possible complications before consuming the medicinal mushrooms. The Federal Food, Drug and Cosmetic Act requires this notice.
MEDICAL DISCLAIMER
This content is for informational and educational purposes only. It is not intended to provide medical advice or to take the place of such advice or treatment from a personal physician. All readers/viewers of this content are advised to consult their doctors or qualified health professionals regarding specific health questions. Neither Curative Mushrooms nor the publisher of this content takes responsibility for possible health consequences of any person or persons reading or following the information in this educational content. All viewers of this content, especially those taking prescription or over-the-counter medications, should consult their physicians before beginning any nutrition, supplement or lifestyle program.
_________________________________