Growing Mushrooms from Spore Prints, Culture or Spawn | Process Explained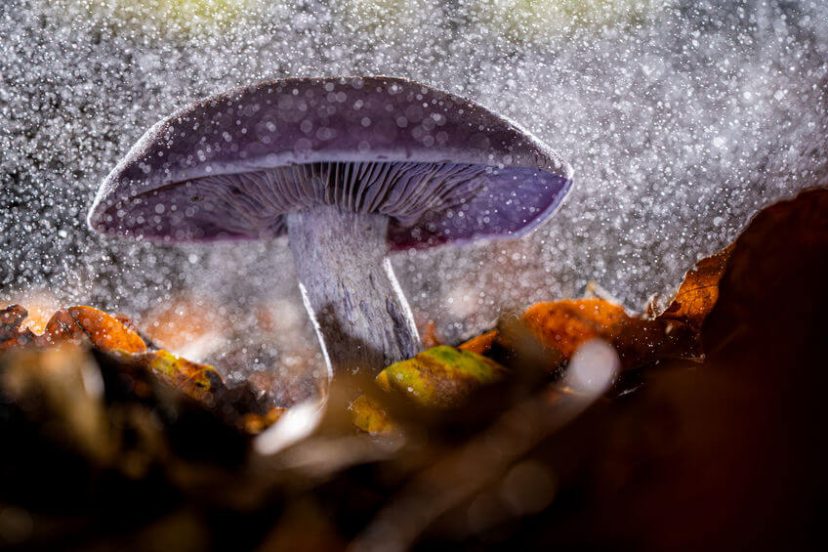 Whether you want to grow mushrooms from spore print, culture or spawn you will find that the process is much the same with each having its own separate advantage.
Cultures and spawn are very similar in a sense that they are both mycelium.  Spawn is just a lot more of it than in culture.  Let's take a look at the difference in more detail now…
Spores vs Mycelium
Choosing your mushroom source is kinda like deciding where to get the 'seed' (if you will) to grow it…
You might think it would be as easy as just getting the spores…  While that is one option to do that, there are other options as well.
If you grow mushrooms from spore print you will need 2 spores to come together (almost like a sperm and egg) to start to grow the mycelium (mushrooms are made from mycelium).
Now when you want to grow mushrooms you can either use spores or mycelium to start it off.
How to use a spore print to grow mushrooms? If you use spores then you will be creating your own strain of that type of mushroom however if you are using mycelium you are essentially cloning a mushroom that already exists.
Unless you want to create you own strain most people prefer to use mycelium since it is further along in the growing process and more predictable.
Some people do like to experiment with creating new strains so they prefer spores.
---
5 Mushroom Sources Using Spores & Mycelium
Now we will cover 5 different mushrooms source options when dealing with spores, cultures and spawn…
1)  Clone a mushroom that you buy from the store or find it in the wild
Cloning a mushroom basically means to cut a small piece from that mushroom and putting it into a substrate (like dirt to plant seeds) to grow out.  Or they will put the small piece into an agar plate or liquid culture mixture.

Most of the time people will use rye grain, popcorn grain or saw dust in a small bag and wait for that bag to completely fill with mushroom mycelium which is called mushroom spawn.
The advantage of using an agar plate or agar liquid is to easily see if there is any contamination.  Then  you can transfer the mycelium multiple times after that to other plates.
---
2) How to Use Spore Prints to Grow
Option 1
You can get your own spores by cutting the cap off a mushroom, putting it gill side down on a piece of foil and covering it with a glass for 12-24 hours.  Or you could order a spore print online.
Then you take a small portion of your spore print, mix it with some distilled water (same as sterile water) and suck into a syringe to make a spore syringe to use to inject into your substrate with a needle for the syringe.  Storing spores in the refrigerator have been know to last for 18 years.
You can order a pre-made spore syringe online.  They should last about 4 to 5 months in the refrigerator (sometimes up to 12 months).
If you want to order edible or medicinal mushrooms you will find it much more common to order the liquid cultures that are already in a syringe or cultures on agar plates than to order spore prints…
A good source for that is here:
1)  North Spore's culture bank (they sell agar plate cultures).  Use promo code ' CURATIVEMUSH ' for a 20% discount at checkout.
2)  The Mycelium Emporium (they sell liquid cultures in syringes).  Use promo code ' Curative ' for a 10% discount at checkout.
Option 2
Another option would be to scrape some spores into an agar plate or liquid agar jar.  The advantage to this would be if there is any contamination it will be easily seen in the agar plate instead of wasting your bulk substrate.

Then, once you have your agar plates you can store them for 3 months to 3 years (depending on the species of mushroom).  Then when you start to run low on a plate you can transfer a small amount to another agar plate.  Essentially creating an endless supply of mushroom.
Be sure to keep track of how many transfer you do though because the further you get away from the initial source the weaker the mycelium will get and eventually stop fruiting.
When most people think of growing mushrooms from spores they think about psilocybe cubensis because it is legal to get those spores in most places for the purpose of studying them under a microscope and then people actually grow them (it is a federal crime in the United states to grow them).
However, you can use spores to create new strains of mushrooms and can be preferred to cultures sometimes because spore prints have been known to last for up to 17 years.
---
3)  Liquid Culture
You could make a liquid culture by mixing 1,500 ml of water, 1 tbsp raw honey and 1 tsp malt (then sterilize with a pressure cooker).  Then you can put spores or a small piece of mushroom into the liquid.  Wait a couple weeks for myclium to grow inside the liquid, put into a syringe with needle and inject into your substrate (or you could just pour it in).
If injecting into a bag you may want to put a self healing port on the bag. You will need an RTV gasket maker tube or you can buy bags with self healing injection ports on them.
Here is a video on how to make your own self healing injection port with the RTV gasket maker:
Liquid culture can last 6 to 8 months in the refrigerator.  You can also order a liquid culture syringe or spore syringe and inject it into a bulk liquid culture jar to make more.  Here are links to order those online:
1)  North Spore's culture bank (they sell agar plate cultures).  Use promo code ' CURATIVEMUSH ' for a 20% discount at checkout.
2)  The Mycelium Emporium (they sell liquid cultures in syringes).  Use promo code ' Curative ' for a 10% discount at checkout.

Once the mycelium grows in the liquid it can be stored for up to 3 months to 3 years in the refrigerator (depending on the species of mushroom).  The advantage here is the same as I talked about with the agar plates when we talked about using spores.
---
4) Agar Plate Culture
For this you will need some petri dishes to pour your agar recipe into:
Agar recipe (sterilize for 45 minutes at 15 PSI in a whiskey bottle with a hole in the top stuffed with cotton (or poly stuffing) and covered with foil):
For every 1000 ml water add:
20 g Agar Powder
20 g Barley Malt Extract
You can use a 3/4 batch of the recipe to fill up 25 petri dishes.  You need to poor the recipe in the petri dishes after it cools down but while it is still liquid.  Then wrap Parafilm around edges of Agar plates without cultures and can be stored in the refrigerator for 6 months.
Once the agar recipe solidifies you can put a small piece of mushroom into the agar or put some spores and wait for it to be covered in white mycelium.  Then a small piece of the mycelium can be used to put into a substrate to make mushroom spawn.
You can also order pre-made agar plates online.
The advantage to agar plates is your ability to easy see and control contamination in small sizes and then transfer them to other plates and substrates as needed.  Also, it is good for experimenting with new strains of mushroom by using spores instead of cloning mushrooms.
---
5)  Order mushroom spawn online
Instead of making your own mushroom spawn you could order it online (easier but more expensive).  Can be stored for a few months if you cover the air filter patch with tape.
I like to North Spore's mushroom spawn.  You can order them here:

1)  North Spore's Grain Spawn – Use promo code ' CURATIVEMUSH ' for a 20% discount at checkout.
2)  North Spore's Sawdust Spawn – Use promo code ' CURATIVEMUSH ' for a 20% discount at checkout.
3)  North Spore's Plug Spawn – Use promo code ' CURATIVEMUSH ' for a 20% discount at checkout.
---
How To Grow Mushroom From Spores, Cultures or Spawn
Now that we have covered the different options for you to grow your mushrooms we can move onto the next stages:
Stage 2 – Choosing a Substrate
Stage 3 – Creating Your Substrate Micro Environment
Stage 4 – Inoculate the Mushroom Substrate
Stage 5 –  Incubation
Stage 6 – Mushroom Fruiting
I cover all 5 of these stages in detail in another article where you will see how to videos as well as links to source all the tools you need here:
Now that we have a good understanding of how to grow mushrooms from spores, cultures and spawn… Lets move to our closing remarks…
---
Wrapping Up
Now you should have a good understanding of the differences between mushroom spores, cultures and spawn as well as when, how and why to use each one of them.
There is really no right or wrong answer as to the one you decide on using.  It will really depend on your situation, what you are growing the mushrooms for as well as how easy or cheap you want to go.
These methods will work for any type of mushroom to include shiitake mushrooms, button mushrooms, oyster mushrooms (pleurotus ostreatus) and many more…
Be sure to check out my other article (referenced above) where we pick up right where we left off here and move into the next stage of the mushroom growing process…

We will also go over how to grow mushrooms at home, choosing the right growing medium and even using mushroom growing kits in ways most people never thought of.
I hope you found this article useful and you did please share it.  Thanks!
Like This Article?  Pin It on Pinterest!
---
Link Attribution for Image and Videos:
The following presentations contain images/videos that were used under a Creative Commons License. Click the links below to see the full list of images/videos and attributions:
Podcast Video:
https://link.attribute.to/cc/1308477
YouTube Video:
https://link.attribute.to/cc/1254049
________________________________
FDA DISCLAIMER
Curative Mushrooms has to post the standard FDA Disclaimer…The statements made regarding medicinal mushrooms have not been evaluated by the Food and Drug Administration. The efficacy of these products has not been confirmed by FDA-approved research. Curative Mushrooms is not making claims intended to diagnose, treat, cure or prevent any disease. All information presented here is not meant as a substitute for or alternative to information from healthcare practitioners. Please consult your healthcare professional about potential interactions or other possible complications before consuming the medicinal mushrooms. The Federal Food, Drug and Cosmetic Act requires this notice.
MEDICAL DISCLAIMER
This content is for informational and educational purposes only. It is not intended to provide medical advice or to take the place of such advice or treatment from a personal physician. All readers/viewers of this content are advised to consult their doctors or qualified health professionals regarding specific health questions. Neither Curative Mushrooms nor the publisher of this content takes responsibility for possible health consequences of any person or persons reading or following the information in this educational content. All viewers of this content, especially those taking prescription or over-the-counter medications, should consult their physicians before beginning any nutrition, supplement or lifestyle program.
_________________________________