Secrets to Growing Morel Mushrooms Indoors In Less Than 2 Months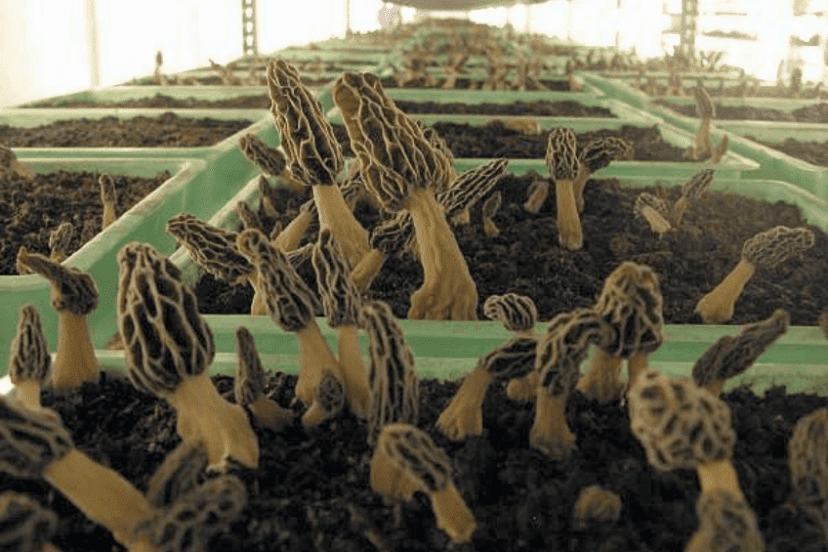 How to grow Morel mushrooms indoors? Morels are a very NOT well understood mushroom but they have been grow successfully indoors since 1982.
Morel mushrooms have been cultivated successfully indoors since 1982 by Ron Ower.  Immediately after he figured it out he filed and received two patents on his work as well as G. Mills and J. Malachowski.
Don't be discouraged just because they patented their methods.  Every mushroom that has been successfully cultivated indoors can be grown by more than one method.  Just modify the parameters a little and you wont been in violation of their patent.
One big thing to keep in mind with growing Morels indoors is that you will probably only have a 40% success rate and that is just the way this elusive mushroom is.
People have struggled with trying to understand this mushroom forever and still don't completely understand it.  That is part of the reason for it's huge following and why people are willing to pay so much for it during the Morel season.
Now, let's see how to grow Morel mushroom indoors…
How To Grow Morel Mushrooms Indoors
The important thing to understand about growing Morel mushrooms indoors is that it is not guaranteed to work.  Some people have success and others don't.
Don't be discouraged though….That's just the way the Morel mushroom is.  Even in nature…Just because it grew in one location one year doesn't mean that it will grow again the next year.
In nature we are looking at a 40% success rate, so we will give ourselves the same odds.  If you get more than 4 attempts to grow out of 10 then you are doing a good job!
Now let's see how to get our own Morel mushrooms growing indoors in the next 2 months…
Like This Article?  Pin It on Pinterest!
Here is the recipe to growing Morels indoors:
50% organic compost.
30% potting soil.
20% sand.
Some pickling lime to get the pH level to 7.2.
You may also want to add some wood chips or wood shavings into your substrate from Elm trees, Ash trees or Apple trees.  Also, a cup of some fresh ash from these trees would also be good.

Put your substrate in a pan:
Take a clean/sterile cake pan and put some water drain holes in the bottom.
Put 2 inches of the substrate mix into a pan (Should be moist).
Mix in some Morel mushroom spawn.
Morel Incubation:
Put your tray in a dark tote (or any dark room) where the temperature is between 65 to 70 degrees Fahrenheit and 90% humidity.
In 4 to 6 weeks the whole thing should be covered with white mycelium and maybe some schlerotia (brown looking lumps) on the surface.
Season Change Simulation:
Place the tray in the refrigerator at 39 degrees Fahrenheit for 2 weeks.
If using a cycle timer for fresh air you will want 2 to 4 air exchanges per hour.
Fruiting the Morel Mushroom:
Remove it from the fridge and place it in a fruiting area at around 72 degrees Fahrenheit and 90% humidity.
Use 12 hours of light and 12 hours of darkness.
The Morels should start to grow within a week.
If using a cycle timer for fresh air you will want 2 to 4 air exchanges per hour.
For more information on how to create the necessary growing environments in your house, check out our other article here:
Wrapping Up
Most people choose to hunt this mushroom instead of trying cultivating Morels.  It seems they heard it can't be done and therefore most people haven't even tried.
We do recommend that you still hunt this elusive mushroom because it truly is the perfect mushroom to hunt.  It pops up in different places every year and when they are in season there is a whole culture of people that hunt them.
The advantage to growing your own is that you can enjoy eating fresh Morel mushroom all year long instead of having to wait until the season starts in March and ends in June.  Heck, imagine how cool it would be to sell fresh Morel mushrooms at the farmers market in the middle of winter.
If you would like to grow Morel mushroom outdoors, then check out our other article here:
Thanks for reading and if you thought this article was useful please share it.  Thanks!
________________________________
FDA DISCLAIMER
Curative Mushrooms has to post the standard FDA Disclaimer…The statements made regarding medicinal mushrooms have not been evaluated by the Food and Drug Administration. The efficacy of these products has not been confirmed by FDA-approved research. Curative Mushrooms is not making claims intended to diagnose, treat, cure or prevent any disease. All information presented here is not meant as a substitute for or alternative to information from healthcare practitioners. Please consult your healthcare professional about potential interactions or other possible complications before consuming the medicinal mushrooms. The Federal Food, Drug and Cosmetic Act requires this notice.
MEDICAL DISCLAIMER
This content is for informational and educational purposes only. It is not intended to provide medical advice or to take the place of such advice or treatment from a personal physician. All readers/viewers of this content are advised to consult their doctors or qualified health professionals regarding specific health questions. Neither Curative Mushrooms nor the publisher of this content takes responsibility for possible health consequences of any person or persons reading or following the information in this educational content. All viewers of this content, especially those taking prescription or over-the-counter medications, should consult their physicians before beginning any nutrition, supplement or lifestyle program.
_________________________________