Lion's Mane Mushrooms Recipes | How to Clean and Cook Lion's Mane Mushrooms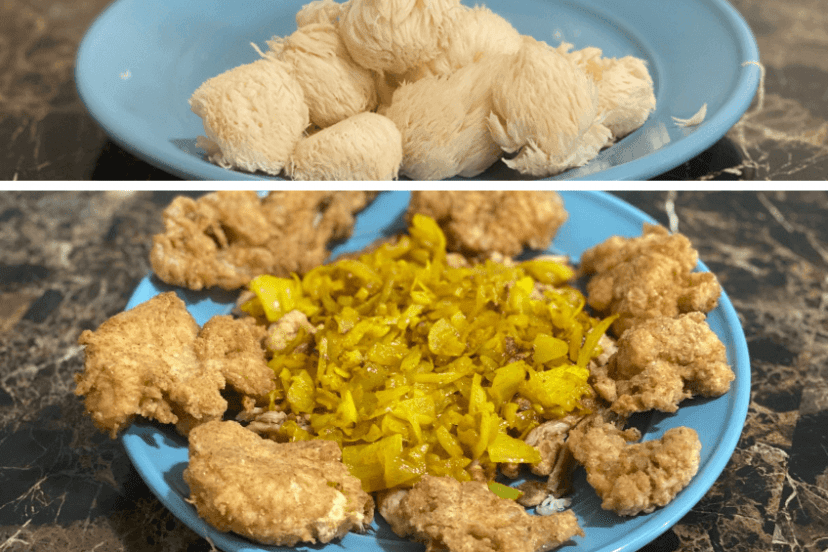 See how to cook Lion's Mane mushroom the top 2 healthy ways by deep frying (healthy way) or sauteing that are simple and taste amazing.
Do to the various health benefits for your brain it's a great idea to consume Lion's Mane mushroom but how to cook it is another question.
When you look at these huge white 'Pom Pom' looking balls it can seem very difficult.  However, it can be very easy and rewarding if you do it correctly.
The Lion's Mane mushroom is actually a member of the toothed fungus mushroom which makes a little bit different to prepare then you normal types of choice edible mushrooms.
Before we get into the 2 recipes lets talk about how to clean Lion's Mane mushroom which will need to be done before each one…
How To Clean Lion's Mane Mushroom
Cleaning Lion's Mane mushroom is much different from cleaning your traditional mushroom.
While all mushroom will absorb water if they are soaking in it too long, this mushroom is like a sponge with those 'Pom Pom' like fruiting bodies.
Steps to Clean:
Trim away any damaged or bug eaten spots.
Run your finger your the tooth like hairs to see if you see any bugs or dirt hiding there.
You can run water through the teeth like hairs to rinse the mushroom (don't do this for long).
If you use water then immediately squeeze them dry with a paper towel (gently but firmly).  Continue to do this until water stops soaking up your paper towels (could take a while).
This mushroom has the nickname of 'Natures Sponge' which makes it difficult to clean but the good news is that it will soak up a lot of flavor too.
---
Lion's Mane Mushroom Recipes – 2 Healthy & Delicious Ways
Let's start with the sauteed sauteed Lion's Mane recipe and then we will move into 'mouth watering' deep fried method…
1)  Golden Brown Sauteed Lion's Mane
You will need the following ingredients:

 Lion's Mane mushroom
 3 tbsp Olive oil
 2 tbsp I Can't Believe It's Not Butter
 2 Sliced onions
 3 Garlic cloves
 Dash of Turmeric Powder
7 Steps to cook:
1)  Put a little olive oil into you skillet and heat up over medium-low heat.
2)  Option to add some I Can't Believe It's Not Butter in the pan to give it a little bit of a lobster taste.
3)  Cut up your Lion's Mane if it is a big mushroom.  If it is a small mushroom you can throw them in the pan whole.
4)  Continue to flip your mushroom chunks often for about 7 minutes until golden brown.
5)  Slice up your onions and toss them into a pan with some olive oil, 3 smashed garlic cloves and a dash of turmeric powder over medium heat.
6)  Stir and turn them often for about 6 minutes until the onions are no longer hard and start to become soft.
7)  Lay your onions over the top of your sauteed mushrooms like a bed.
Like This Article?  Pin It on Pinterest!
Now lets check out a really amazing deep fried recipe…

---
2) Deep Fried Lion's Mane Mushroom Recipe
Ingredients list:
3 eggs
1 cup of whole wheat flour
Dash of Natures Seasoning
2 Cups of Canola Oil
Lion's Mane Mushroom
8 Steps to cook:
1)  If a large mushroom then cut it into fillets otherwise use the whole mushroom.
2)  Break the eggs and pour them into a small bowl. Beat the eggs with a whisker or fork to a fine consistency.
3)  Add some Natures Seasoning (or any other seasoning you like to the flour.  Put some Cayenne pepper for a little kick!).
4)  Dip a the pieces of mushrooms into the egg and then roll it in the flour until fully covered.
5)  Fill your skillet about a half inch with the Canola oil (or what ever oil you like) and heat over medium heat.
6)  Drop your flour covered chunks into the oil and flip often.
7)  Continue to flip until golden brown.
8)  Put them into a plate with layers of paper towels at the bottom to soak up excess oil.

If you want you can combine the two recipes like we did in the picture below (sauteed in the middle and deep fired on the outside):
While this "Pom Pom" mushroom recipe will contain much more oil then the first recipe, the taste is well worth it.
---
Wrap Up
Now you know how to cook the Lion's Mane mushroom and make them taste absolutely delicious!
After you try these recipes this mushroom will become a highly sought after delicacy on your dinner table.  They are also loaded with various health benefits.
Check out our video to see us cook the Lion's Mane mushroom (Hericium erinaceus), following the recipes listed above.
If you would like to get all the health benefits of the Lion's Mane mushroom without all the work of cooking it then you could always order it in supplement form as well.
Now that you know how to cook a Lion's Mane mushroom you can surely enjoy all the brain boosting, medicinal benefits this medicinal mushroom has to offer.  Not only that, but you have discovered a new gourmet mushroom that may become one of your new favorites at the table because they taste so amazing.
________________________________
FDA DISCLAIMER
Curative Mushrooms has to post the standard FDA Disclaimer…The statements made regarding medicinal mushrooms have not been evaluated by the Food and Drug Administration. The efficacy of these products has not been confirmed by FDA-approved research. Curative Mushrooms is not making claims intended to diagnose, treat, cure or prevent any disease. All information presented here is not meant as a substitute for or alternative to information from healthcare practitioners. Please consult your healthcare professional about potential interactions or other possible complications before consuming the medicinal mushrooms. The Federal Food, Drug and Cosmetic Act requires this notice.
MEDICAL DISCLAIMER
This content is for informational and educational purposes only. It is not intended to provide medical advice or to take the place of such advice or treatment from a personal physician. All readers/viewers of this content are advised to consult their doctors or qualified health professionals regarding specific health questions. Neither Curative Mushrooms nor the publisher of this content takes responsibility for possible health consequences of any person or persons reading or following the information in this educational content. All viewers of this content, especially those taking prescription or over-the-counter medications, should consult their physicians before beginning any nutrition, supplement or lifestyle program.
_________________________________