Chicken of the Woods Mushroom Nutrition Information & Health Benefits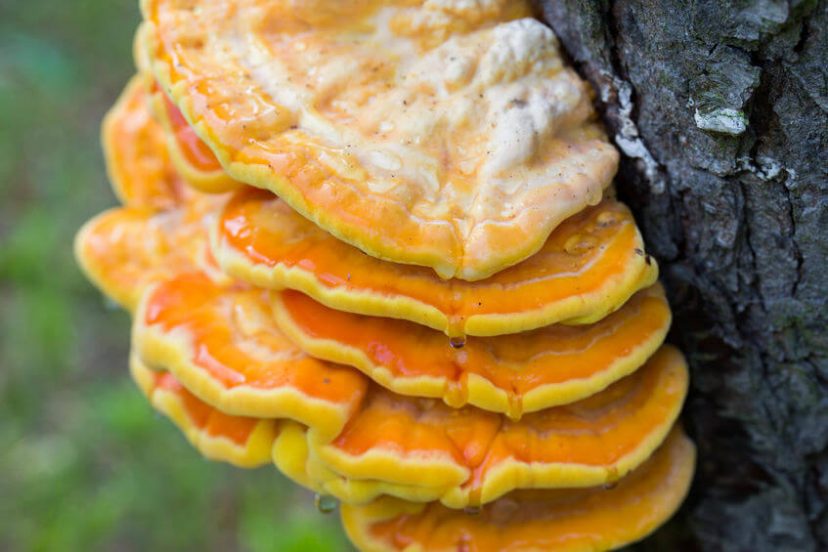 The Chicken of the Woods mushroom is considered a medicinal mushroom for it's anti-inflammatory and antioxidant benefits.  We will discuss the Chicken of the Woods mushroom nutrition information and some of its uses. Then we'll discover the Chicken of the Woods benefits and their influence on health.
If there was one kind of mushroom that has a special place in my heart then that would be the Chicken of the Woods mushroom.
As the name implies, this type of mushroom tastes just like chicken. Yeah, I know the phrase "tastes just like chicken" is what we usually use when we try to explain how something we can't really explain tastes like but Chicken of the Woods really tastes like the real thing.
I can remember going to my father's place around early fall and foraging for Chicken of the Woods on a nearby golf course. We would just slice the fresh mushroom and saute it with a little oil, salt, and pepper.
I think what makes this mushroom my favorite is because of just how big it gets.  Most of the other mushrooms are a good appetizer but this one could literally feed you whole family for dinner.
Besides, Chicken of the Woods protein content is almost like you caught a wild chicken for dinner.
What is Chicken of the Woods Mushroom?
The Chicken of the Woods mushroom has has 18 distinct clades that fall under the Laetiporus clade with the same nutritional benefits but they look different:
Laetiporus ailaoshanensis
Laetiporus baudonii
Laetiporus caribensis
Laetiporus cincinnatus
Laetiporus conifericola
Laetiporus cremeiporus
Laetiporus discolor
Laetiporus flos-musae
Laetiporus gilbertsonii
Laetiporus huroniensis
Laetiporus miniatus
Laetiporus montanus
Laetiporus persicinus
Laetiporus portentosus
Laetiporus squalidus
Laetiporus sulphureus
Laetiporus versisporus
Laetiporus zonatus
They are all very similar in appearance with different shades of colors.  Overall, it is a brightly colored fungus that is most often found in clustered nests. You can find them in trees both living or decaying.
My favorite one is the is the Laetiporus sulphureus clade but if you happen to find any version they are all good.  One big difference between the L. sulphureus and the L. cincinnatus is the L. sulphureus has a cream colored pore surface while the L. cincinnatus has a white colored pore surface.
Most of the time they are found in oak but are found in other types of trees including:
Eucalyptus
Cherry wood
Willows
Yew
The fungus attacks decomposing trees and helps to return the nutrients back to the earth.
If you have some dead Oak trees that are starting to decompose near you then be on the look in September and October for this mushroom.

Where Does Chicken of the Woods Grow?
Most full grown Chicken of the Woods grow anywhere from 2 to 20 inches across. The biggest brackets found in the wild can have a large fruiting body as big as 120 pounds.
The largest Chicken of the Woods mushroom was discovered by Ty Whitmore back in October of 2005.  He cut it off of  a maple tree next to a creek.
He then took it into a grocery store in Maysville Missouri to get it weighed.  It weighed in at 56 pounds and was measured at 30 inches wide by 16 inches long.
Whitmore believes it should have weighed in at around 120 pounds because when he cut if off the tree the biggest half of it fell into the creek.
The probelm was when he cut if off the biggest part of it fell into the creek.
It's always exciting to forage for these types of wild mushrooms because there is a chance you will find a large bracket that you can brag to your other forager friends.
One of the cool things of this mushroom is how soft an pliable it is when compared to other brackets like the Reishi.  The Reishi is really hard compared to this one.  Basically this is a choice mushroom when it comes to cooking it.
---
Chicken of the Woods Identification & Poisonous Look Alike
The Chicken of the Woods mushroom happens to be one of the easiest mushrooms to identify and is perfect for a beginner mushroom hunter.  It is bright orange and yellow and can be spotted from far away.
Not only is it easy to spot but there are only 3 other mushroom that look 'somewhat' similar to it.  But if you understand a couple of key characteristics you will see how easy it is to distinguish from it's look alikes…Even the poisonous one.
Check out another article we have written to see how easy it is to identify and tell apart from its look alikes:

---
Chicken of the Woods Nutritional Value & Facts
Mushrooms have long known to be an excellent source of vitamins and minerals. The Chicken of the Woods mushroom is no exception.
There is dietary fiber, potassium, Vitamin C & A and protein in Chicken of the Woods.
Chicken of the Woods Calories and Nutrition Facts – Per 100 g (1.5 Cups)
Calories: 360
Carbohydrates: 71 g
Dietary Fiber: 6 g
Protein: 21 g
Fat: 2 g
Potassium: 150 mg
Vitamin C: 10% of daily recommendation
Vitamin A: 5% of daily recommendation
*Chicken of the Woods nutritional information is in dry weight and sourced from 2 studies done on laetiporus sulphureus [1] [2].
21 Grams of Complete Protein!!!  Good luck finding another vegetable that has that much protein in it for a 1 cup serving.
The same amount in weight of chicken has 20 g of protein while most vegetables contain less than 5 g of protein in the same!
For people who are leaning towards a vegan or vegetarian diet, this can solve all your protein deficiency problems.
---
3 Chicken of the Woods Mushroom Medicinal Health Benefits and Properties
1)  Ant- Inflammatory Benefits
The Acetly Eburicoic Acid present in this mushroom has been proven in studies to stop the activation of macrophages which then suppresses of inflammatory diseases.
Also, it contains exopolysaccharide (EPS) that induces the inhibition of pro-inflammatory mediators in cells.
2)  Antibacterial Support
Studies have proven it to be an strong antibacterial and anti-fungal which will assist your body in fighting infection and will boost your immune function.
3)  High in Antioxidants
High in antioxidants to include:

quercetin
kaempferol
caffeic acid
chlorogenic acid
lanostanoids
You can definitely tell it's high in quercetin by it's bright orange pigmentation.
This allows you body to fight off free radicals which cause the majority of cellular damage in the body.  Which also can help in reducing cancerous tumor cells, relieve allergy symptoms and prevent neurological disease.
---
How to Cook & Store Chicken of the Woods Mushroom
Once you correctly identify this mushroom you will want to know how to make it taste delicious.  Not only that but if you happen to harvest a lot of the mushroom you will want to know how to store it so it doesn't lose it's texture or flavor so you can enjoy it later on.
Check out another article we have written on how to cook and store Chicken of the Woods mushroom here:
---
Chicken of the Woods Side Effects or Risks
It is also worth noting that the mushroom can cause allergic reactions to some people. Nothing too dangerous but it can result in swollen lips.
Worst case scenario includes vomiting, dizziness, nausea, and disorientation. This only happens in some people when excessive amounts of the mushroom is ingested.
Another thing to be wary of is to check what kind of tree the mushroom came from.  Chicken of the Woods mushrooms are parasitic by nature and can sometimes absorb the oils from the tree it lives in.
So when a Chicken of the Woods mushroom is found on a eucalyptus tree, it can often cause what feels like stomach flu due symptoms due to the amount of oil in the mushroom. Just stick to the mushrooms that grow on oak trees as they are the safest.
---
Wrap Up: Is Chicken of the Woods Good for You
There is also a way for you to farm for Chicken of the Woods. However, it may take a little bit of effort and time on your end as they demand a specific type of substrate.
However, once you get the prep work done it's all about ensuring you provide the right conditions for the mycelium to proliferate. After that, it's all about waiting for the mushrooms to sprout.

My Dad ended up throwing some chunks of one of the Chicken of the Woods mushrooms that we harvested next to some trees in his back yard and then the next year it started growing there.
How about you? What's your experience with Chicken of the Woods? Do you agree that it tastes just like chicken?
Also, would you rather eat a farmed one or a foraged one? Let me know on the comments!
On a side note, I am very happy to announce that our site just got recognized in the Top 15 Mushroom Blogs over at FeedSpot.  I just want to thank everyone for reading and liking our content.  Without you this site would not exist!
Also, if you like the Chicken of the Woods mushroom then you should check out the Turkey Tail mushroom because it is available almost all year round and is one of the most highly research mushroom for its medicinal benefits.
Now that you understand what Chicken of the Wood mushroom is, the nutritional facts, the medicinal health benefits of Chicken of the Woods, how to cook and store it.  Now you just need to go out and find some.
Like This Article?  Pin It on Pinterest!
Kovács, D. & Vetter, János. (2015). Chemical composition of the mushroom Laetiporus sulphureus (Bull.) Murill.. Acta Alimentaria. 44. 104-110. 10.1556/AAlim.44.2015.1.10.
[2]
2017 analysis published in the journal Pharmacogn
________________________________
FDA DISCLAIMER
Curative Mushrooms has to post the standard FDA Disclaimer…The statements made regarding medicinal mushrooms have not been evaluated by the Food and Drug Administration. The efficacy of these products has not been confirmed by FDA-approved research. Curative Mushrooms is not making claims intended to diagnose, treat, cure or prevent any disease. All information presented here is not meant as a substitute for or alternative to information from healthcare practitioners. Please consult your healthcare professional about potential interactions or other possible complications before consuming the medicinal mushrooms. The Federal Food, Drug and Cosmetic Act requires this notice.
MEDICAL DISCLAIMER
This content is for informational and educational purposes only. It is not intended to provide medical advice or to take the place of such advice or treatment from a personal physician. All readers/viewers of this content are advised to consult their doctors or qualified health professionals regarding specific health questions. Neither Curative Mushrooms nor the publisher of this content takes responsibility for possible health consequences of any person or persons reading or following the information in this educational content. All viewers of this content, especially those taking prescription or over-the-counter medications, should consult their physicians before beginning any nutrition, supplement or lifestyle program.
_________________________________